Rewiring the Network - Episode 4: Designing sustainable futures for the performing arts
19/06/2020 by Joris Janssens. Topics: Cooperation and development, Creative Industries, Environment, Evaluation, Sustainability, Working conditions, Worldwide
The fourth episode of the series recaps the main objectives of the Rewiring project and introduces the results of the large online brainstorm session held on 19 May.
Image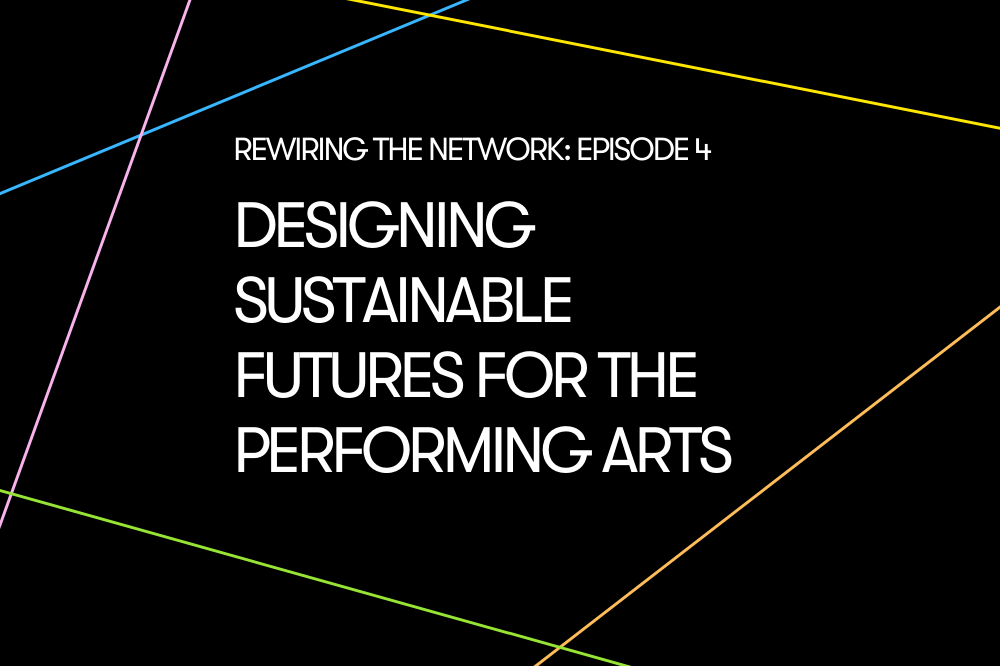 This text has been co-authored by Martina Fraioli and is part of a five blog posts series. You can read all previous episodes here.
Introduction
IETM was just preparing 'Rewiring the network for the twenties', an interactive trajectory to collectively design a more sustainable future for the performing arts, when the face of the world changed in a matter of just a couple of weeks. As the days are growing longer, we are closing the first phase of our trajectory. This spring, we have basically been designing transitions for the performing arts. In a first series of blogposts, we looked back on the history of international networking, and on the pressures and (sometimes weak) signals of hope in our current situation. We did so on the basis of a survey of IETM members. After mapping the current situation, we came together with 140 members in a large online brainstorm (May 19th 2020), to design our preferred futures for the performing arts. In this blog post, the last before the summer, we present the results of the brainstorm, and briefly hint what the next phase of the project will look like. 
Rewiring: the recap
But first, it might be a good idea to briefly recap the main ideas and objectives of the Rewiring project. Basically, the Rewiring trajectory runs throughout 2020. It is a co-creative exercise by the whole membership of IETM to reset the network's agenda for the next years. Why? Because looking back , we have seen that international networking in the performing arts has been very successful since the early eighties, and IETM has been one of the driving forces in this success. However, in the last decade, we've seen some major crises in society (financial-economic crisis, climate crisis, refugee crisis,… ) and political reactions having a huge impact on the performing arts (budget cuts, changing geopolitical values, instrumentalisation…). It is an understatement to say that the answers and solutions within the sector have not always been the most sustainable: for the last ten years, precariousness, hypermobility, isolation, competition have increased.
Where are we now? In order to take stock of the current situation, we first collected examples of dominant and persistent practices within our performing arts ecosystem which we can call 'unsustainable' (because they cannot be sustained over a longer period of time). We mapped them on a 'Pressures Radar'. Second, we also collected interesting, sometimes radical and niche experiments which might be an alternative to unsustainable practices or can give us a vision on how to develop similar or other alternatives. What new approaches and examples can give us a first glimpse into a more sustainable future for the performing arts? We mapped them on a 'Promises Radar'.
We clustered the 'pressures' and the 'promises' making a distinction between 5 types of values or meanings. Building on the Reframing the International study, undertaken by Flanders Arts Institute in 2018, these 5 values can be regarded as the ultimate promises of our work to society:
In the ideal situation, artists can create their work in conditions where they are free to explore values, meanings and emotions (the artistic value).

This can have positive societal benefits, for instance, fostering well-being of people (human value).

Artistic practices can also strengthen communities and social connections (the social value).

The arts are also part of the broader economy: they are economically connected with other sectors, they boost economic resources and investments. The arts are an economy as well, in which art works or services are traded and people are remunerated for work they do.

Natural (or ecological) values concern the natural aids and resources that the sector needs to be able to work.
We use these 'values' as a way to structure the survey material because these are not only the areas where we see the potential value. They are also the zones where the pressures mount.
Some insights from transition thinking
So, today we see a lot of pressures on the international performing arts community, but we also see sparkles of hope in the niche experiments identified by the survey, even though they sometimes seem quite marginal. The basic question, of course is: how can these alternatives be more than just survival strategies? How can they become the fundament or the starting point for a more sustainable future? Let's try to answer this complex question, by drawing some insights from transition thinking. Let us briefly highlight 3 really basic ideas and add some links for further reading and reflection – for those interested in exploring the transition thinking approach.
What does "sustainable" mean? We introduced the definition earlier on in the trajectory, in our survey where we asked for "sustainable" and "unsustainable" practices. At that point, we decided to keep it simple and use the following working definition: a sustainable practice is a practice which can be sustained over a longer period of time. Following this logic, an unsustainable practice is one which cannot be sustained over a longer period of time.

What is a transition? Basically, a transition describes a movement away from one situation (A) to another one (B). If we are talking about a sustainable transition, we are talking about a movement away from an unsustainable situation to a more sustainable one. This movement is always non-linear. Transitions start up when the unsustainable pressure is building up, when there are more and more indications that the current system cannot be sustained, and when alternatives are coming up and being tested.

In our current situation, there are many dominant and persistent unsustainable practices. But there are also some experiments of alternative and more sustainable approaches, yet they are rather marginal. Although these experiments can be niche and less visible, an important idea in transition thinking is that small things can have a huge effect or impact. This is sometimes called the "butterfly effect".
These three ideas will be our working material when designing transitions. Furthermore, transitions are not simply 'there' for everyone – they are in the eye of the beholder. And in order to make them happen, we need to make them visible. For that reason, in our online brainstorm, we worked with the X-curve scheme by DRIFT, the Dutch Research Institute for Transition. If you want to hear more about transition governance and the X-curve, you should read this paper and listen to this podcast with Derk Loorbach – director of DRIFT.
This is how DRIFT's X-curve looks like: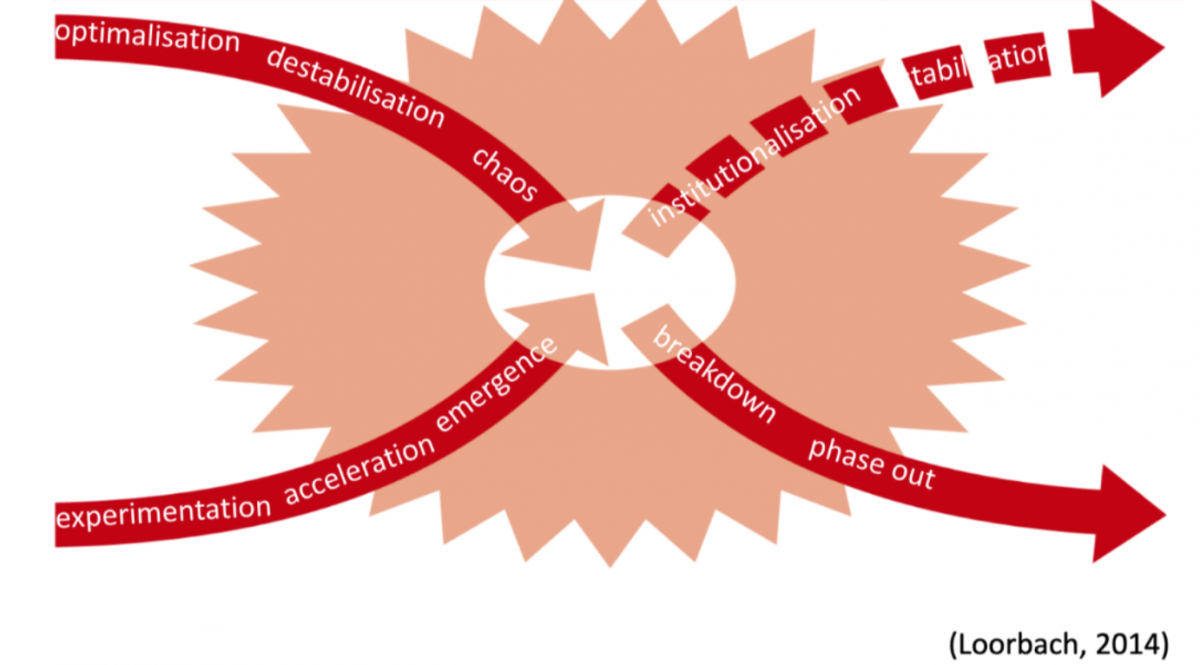 This is a scheme that gives us an idea of what a transition looks like. The X-curve describes a movement away from an unsustainable situation (the left side of the image) towards a more sustainable future (the right side of the image). On the top left, we see dominant practices and signals of the fact that these practices cannot be sustained: there are symptoms of pressures, of instability of the system, and they might be already breaking down. On the bottom left, we see some of the (radical) alternatives and new approaches.
Now, the visual with two legs shows us quite clearly that a transition consists of two movements. One is where the dominant practices are breaking down and need to be phased out actively. The second movement is where the niche experiments are accelerated, scaled up and finally mainstreamed, and thus become the new dominant practices in our preferred, sustainable future.
Let's try to immediately apply this to our current situation, in the contemporary performing arts, and how we can design transitions within our Rewiring trajectory. With our survey, we have basically mapped the left side of the X-curve: the dominant unsustainable practices (on our Pressures Radar) can be found on the upper left. The niche experiments with alternative sustainable practices (on our Promises Radar) are to be situated on the bottom left.
Designing transitions
This is where we were, at the start of our online brainstorm on the 19th of May. Initially, the idea was to have a large-scale brainstorm with all participants during the IETM Tromsø Plenary, in order to design our transitions on X-curves. After the corona cancellation of the Tromsø meeting, it was decided to host the brainstorm online. On the 19th of May, we got together with 140 participants in Zoom and – with the kind help of almost 40 moderators and rapporteurs – we designed images of our preferred, sustainable futures. If you are interested in how we set up the remote brainstorm, check it out here. If you're interested in the results, please continue reading. Here are the main questions the participants were asked to answer during the workshop:
Imagine it is 2040.... what does the (sustainable) future for the performing arts look like?
In 2040, what will we be the common practices in the performing arts sector?
In 2040, which are the core values guiding our work?
In 2040, what will we have stopped doing?
Responding to those questions, participants were mainly focusing on the right side of our X-curve: the future we want to move to in our transition. Participants were grouped in 14 different working groups Most of the groups discussed one of the five value frameworks mentioned above. We also had three "open space groups", which could think outside of that box and/or look for the connections, since – of course – all these values are intertwined.
The results of this brainstorm activity can be found on our Rewiring the Network (for the Twenties) Miro Board:
Firstly, you will find there, the original frames with the 14 X-curves from all the 14 working groups. If you are interested, you can find out how the ideas were formulated in their original context.

Second, you will find the results of discussions about the future practices (questions one and three) clustered and synthesised per value framework: the human, the artistic, the social, the economic and the ecological ones. You can also explore the comprehensive radar of all the sustainable future practices . This is the material which we will work on in the second part of the trajectory, after the summer break. For now, we have just clustered the raw material, and added an extra layer. This material is on the Miro board, for you to have a look at and reflect upon: using the comment function, you can add ideas, nuances and reflections.

One question, a more abstract one, was about the guiding values in our future vision of the performing arts sector. These are attitudes and guiding principles that manifest themselves concretely in practices and behavioural patterns. We have seen a lot of connections and similarities between the discussions in the different working groups. Thus, we decided to bring the ideas on the future values together in one frame.
Future dominant practices
Not surprisingly, the discussion of the 14 groups was so active and enriching that the general image of future dominant sustainable practices in 2040 is full of interesting ideas, examples and reflections. What are the main building blocks of the big picture drawn by participants? Let's answer the question by diving into the 5 value frames.
In 2040, the dominant practices in the performing arts field will respect and foster human values, including…
The recognition of artistic work: artistic work will be universally recognised as labour and artists will be recognised as workers (not anymore as resources to be 'used' or exploited);

Care for fragile positions in the field: the diversity of working conditions within the sector will be carefully taken into account. Insecurity will be removed, and the "big fishes" will carry most of the weight and risks;

Work-life balance: working conditions will be family-friendly and in line with private life;

The mainstreaming of fair practice: a 'Fair practice code' will have been developed within the sector and mainstreamed, also with policy support. This fair practice code will look into all value frames: it will look into fair remuneration, but it will also be about trust, transparency, ecology, diversity…

The sharing of skills, know-how, and lived experience: mentorship and shared leadership will be a leitmotif in our future performing arts sector.
In 2040, the dominant practices in the performing arts field will be all about meaningful social relations, both within and outside of the sector…
Demonstrable social impact: the work of artists and organisations will have a tangible and visible impact on communities and society.

Systems of knowledge development, data collection and social impact measurement will have been developed; they will be in tune with the values adopted by all the actors within the sector and will create demonstrable evidence of the art's social impact and relevance;

'Co-practices': we will not only be coproducing, but also co-creating, co-programming, co-planning and co-governing and making decisions together... Along with partners from the sector, audiences and communities will participate in this. They are able to do so, because the sector has invested a lot in the development of inclusive practices and arts education;

Synergies beyond the arts: the interconnection between the performing artists and the education sector, municipalities and local communities will be stronger;

Inclusive practices and audience engagement: inclusivity and accessibility will be the guiding principles to engage more diverse audiences .
In 2040, the dominant practices in the performing arts field will provide the right and necessary conditions for artistic work to be artistically valuable and meaningful – thus stimulating the imagination of people and offering new perspectives for society. This includes:
Recognition of artistic quality: art works will not be instrumentalised and their quality will always be accompanied by research work and time carefully spent on the creative process;

Artistic representation in power structures: more horizontal decision-making systems will be established where artists will have a major role in the decision-making process (inside-out and down-to-top dynamics);

Slow practice and the value of creative processes: slower development, production and dissemination practices will lead to valuable artistic works, responsive to broader cultural and social shifts in society. In order to allow this to happen, we will have learned that the creative process is equally valuable as the final artistic product;

Long-term perspective on artistic collaborations: artistic collaboration in 2040 is not just production-based, but starts from a long-term perspective on the development of artistic values, artistic and other skills and sustainable community relations; funding schemes will also be based this long-term perspective.

A new balance between local and international connections: 'Local' was the recurring word when talking about the relation between artistic work and society. The artistic work will have a strong local grounding. This will be a necessary precondition for the work to have an international quality;

Breaking out of the silos: Less silos, more exchange! Artists and art organisations will take time and space to break out of their bubbles, explore connections with other sectors and social domains. There will be more dialogue with external stakeholders: politicians, funders, NGOs, municipalities…
In 2040, the economic value will be a means to other ends – the dominant economic practices in the performing arts field will provide the right and necessary conditions for all actors in the field to pursue their artistic, social, human and ecological values.
Long-term funding schemes: funding schemes will no longer only address the "new" (new productions, new collaborations, etc). Nor will they focus on the "product" – they will always adapt a long-term perspective on creative processes as learning and development trajectories, allowing practices to ground locally, experiments to fail and skills and relations to develop;

Alternative business models: actors within the sector will find new sustainable business models to support the practices described above, in tune with the values described below;

Sharing economic resources: venues, resources and costs will be shared, in the context of a more sustainable 'economy of sharing';

Fair pay: economic transactions within the arts field will be respectful towards everybody's contribution. A basic guaranteed income for all artists and creative workers will be ensured;

Diversification of revenue streams: synergies between local, regional and national dimensions will ensure broader and more comprehensive funding schemes.
In 2040, the dominant practices in the performing arts field will be respectful towards the use of energy and materials and conscious of the boundaries of natural resources. This includes:
Ecological awareness: all actors within the ecosystem will be aware of the fact that all their activities are embedded in broader, planetary ecosystems and have an ecological impact. They will be able to self-assess this impact and reflect it in their behaviour and decisions;

Ecological artistic production practices: slowing down the cycle of development, creation and production and dissemination of performances will imply that we will produce only when it is urgent and meaningful, and we will make every effort possible to recycle production materials;

Meaningful traveling: less frequent but more meaningful traveling, greener mobility and a more careful balance between the freedom / the right to be mobile and the negative ecological footprint;

Environmental sustainability and funding: funding structures and programs will take the ecological impact into account and will play a major role in mainstreaming ecological awareness and practices.
Guiding values
What will be the main guiding principles in this performing arts sector, as we want it to be in 2040? Basically, this is a story about fairness, solidarity, interconnectedness, diversity, equality and plurality, the fundamental belief in the value of the arts in a democratic society and our desire to make these values really guide our practice. But what does this all mean?
Fairness means...
Fair collaborations, starting from respectful and transparent agreements. In fair collaborations, risks and power are equally shared among all partners (which means: the strongest shoulders carry the most weight).

Considering and actively taking care of the physical and mental well-being of all partners involved.
An attitude of solidarity, interdependence and connectedness means...
Awareness of our interdependence and connectedness, on different levels: both within local communities and global ecosystems and ecologies.

A generous and sharing relations within the arts sector, and also with audiences, communities and other-than-humans within these broader ecologies.
Diversity, equality and plurality mean...
Plurality and diversity: in our future system, we want a representation of diversity of voices and visions on all levels, including governance and decision-making.

Inclusiveness, equality and equity: if we want to give access to everyone, we need to be aware that this will not happen automatically by itself; it needs to be stirred and fostered.
Publicness and democracy mean...
Respect for the basic forms of freedom regarding the performing arts, such as freedom of speech, artistic autonomy and the freedom of mobility...

Empathy, openness and curiosity are fundamental attitudes within the arts. Only when they are present, the arts can be a force of transition towards new politics and new economies.

Providing the necessary conditions to achieve this public value: process before product, taking time and the acknowledgement of the complexity of transitions.
A value-driven attitude means...
An increased awareness of the value of the arts in society starts with self-awareness of its boldness, radicality, fierceness, authenticity and spirituality.

Its credibility depends on our willingness to bring this awareness into practice rigorously: both within the choices we make for ourselves and as basic values in the working relationships we engage in.
What's next?
Here, the first phase of the Rewiring the Network trajectory ends – before the summer break. Until now, we have been designing transitions for the international performing arts – taking into account the artistic, human, social, economic and ecological dimensions of our work. First, we mapped the current situation: we now know where the pressures mount, we have started scouting for radical alternatives or promising niche experiments. Second, we designed our future practices, and made explicit the values and attitudes which we want to be the driver behind our practices.
So now we have a view on our transitions. We know what we want to move away from. We know where we want to go. But how? That we will tackle after the summer, in the second leg of our Rewiring stint, when we will look at how the international performing arts community can implement the transitions: how to break down our persistent unsustainable habits? What will be the factors that accelerate the emergence and mainstreaming new sustainable practices? Eventually, what should be the role that IETM and other accelerators might play in the actual transition process?

Expert Arts & Culture , IDEA Consult
Joris Janssens is expert in culture and regional development at IDEA Consult (Brussels). Before he was Head of Research & Development coordinator at Flanders Arts Institute, the supporting organisation for the arts in Flanders. Since 2001, he worked at the Vlaams Theater Instituut (Flemish Theater Institute), first as researcher and until 2011 as director. VTI has recently merged with the institutes for visual art and music to become Flanders Arts Institute. He holds a Ph.D. on Linguistics and Literature: Germanic Languages from the KU Leuven. In 1997-2001, he worked at the KU Leuven (Department Literatuurwetenschap, Netherlandic Studies). In 2001, he worked at the University of Vienna in the Department for Nederlandistik. He has published and edited several books and articles on performing arts practice and policies, literary history and pop culture.
Art, Culture & Heritage Trainee, IDEA Consult
Martina Fraioli is a junior professional, currently working at IDEA Consult (Brussels) as a trainee in the Art, Culture and Heritage department, supported by an Italian merit-based grant. She previously worked at the European Parliament as a Schuman trainee in the Parlamentariul unit and at the European Network on cultural management and policy (ENCATC) as an Erasmus+ postgraduate intern with communication and project management tasks. She holds a Master's Degree in Economics and Management of Arts and Cultural Activities from Ca' Foscari University of Venice, where she graduated with a research thesis on the 2018 Reform of Italian state museums and a case study on the National Gallery of Modern and Contemporary Art of Rome. She is also co-founder and director of Volano, Italian young Do Tank whose mission is to provide local policy solutions to issues related to culture, tourism and education.