Pre-Festival Workshop and 5th Roma Heroes Festival
24/05/2022 by Marton Illes. Topics: Activism, Connections, Cross-sectorial collaboration, Education, EU, Freedom of expression, Human Rights, Identity, Inclusion, Status of the Artist, Youth
"We believe that Roma theatre is not a minority but a majority issue."
Image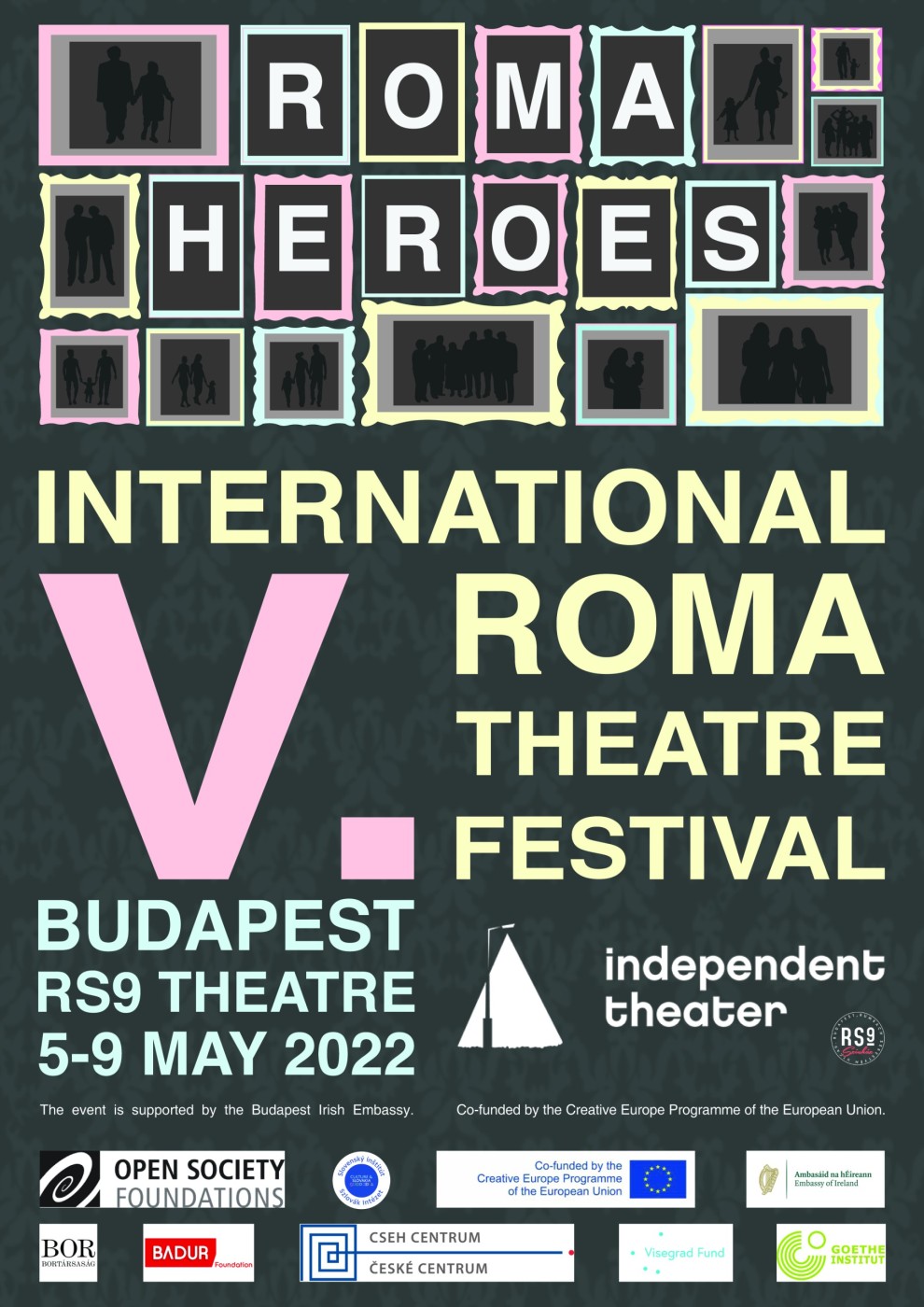 Photo credits
Norbert Oláh
Roma Theatres Claim Institutions Around Europe
At the 5th Roma Heroes – International Roma Theatre Festival in May 2022 in Budapest, beside putting on stage inspiring theatre performances, more than twenty European Roma theatres and theatre professionals made an ambitious declaration demanding that Roma theatre should be recognized and appreciated according to its merits. Among others, they want twenty state-funded Roma theatres throughout Europe. They believe that Roma theatre has enough cultural capital to be listened to, which is also supported by the fact that on their 15th anniversary, Independent Theater Hungary launched the Roma Heroes Digital Collection of European Roma Theater and Drama, this way making the works of European Roma theatre makers more accessible and contributing to the cultural diversity of Europe.
The representatives of various European Roma theatres arrived in Budapest on May 5 to share their vision about the future in a joint declaration (that was also recorded in a video), demanding visibility, support and equal opportunities for Roma artists their network. The network has more than twenty members and they intend to undertake commitments which are to be realised together. They wholeheartedly believe that they can make a change, and that Roma culture adds a rich contribution to the cultural heritage of Europe. Unfortunately, in the EU, barely any Roma theatre is supported by their national state and it has to change because,  as Rodrigó Balogh, the artistic director of the Independent Theater Hungary summarised: "We believe that Roma theatre is not a minority but a majority issue."
The Roma Heroes Digital Collection of European Roma Theater and Drama has been created to fill the gap in the world of dramatic arts. It aims to show both Roma and non-Roma citizens how colourful the Roma theatrical culture is and that it must be documented. The visitors can find artists, theatre companies and works from Ireland to Bulgaria, from Spain to Ukraine. "These are works that help us get through the storms of our daily lives, storms that are raging around us in Europe and Hungary." says Rodrigó Balogh. A detailed theatre history of each member state written by professionals and academic researchers is also included. At the same time, the Collection functions as a forum for further professional dialogue, as the creators announced an academic essay competition and the articles received from different parts of Europe are now part of the Collection.
The main goal of the Roma Heroes Festival has always been to share authentic stories about the Roma written by Roma authors and performed in cooperation with professional Roma and non-Roma actors. Since 2017, Independent Theater Hungary has been organising the unique international Roma theatre meeting of the European Union every year. Roma theatre companies and artists from many countries are presented at the festival. In doing so, they draw attention to the values of Roma theatre, the situation of many Roma communities, focusing on the challenges of value-driven Roma people and dramatic heroes. Based on the performances shown at the festivals, they created an educational methodology, as well as implemented workshops and university teacher courses. From the works presented, they have published two volumes of the world's first sequel of international Roma dramas entitled Roma Heroes.
Independent Theater Hungary has been a member of the IETM - International Network for Contemporary Performing Arts since 2021. With their support they had the possibility to organize a pre-festival event on April 28 at the Goethe Institute in Budapest, Hungary, a workshop entitled 'What is Roma Theater Worth Today?' Prominent academic researchers, theatre critics, journalists, theatre professionals were among the invitees, and they had an inspirational discussion on Roma theatre history, the theatrical representation of the Roma, on what issues and dilemmas arise in connection with majority culture and Roma self-representation, and on how art and publicity can become means to achieve an inclusive society.
The success of the Roma Heroes Festivals continues uninterrupted throughout Europe: it started in Budapest, Hungary but it has been realized in Prague and Košice, further building the brand, and two more Roma theatre meetings were born following this example in Wien and Bucharest, too. Independent Theater Hungary believes that not only the European Gypsy, Roma and Traveller communities, but also members of the majority society will be enriched by the festivals and by learning about the works of the various theatre performers and the heroes they present in the new Roma Heroes Digital Collection. They want to make Roma theatrical culture visible and that is why they call for the establishment of national Roma theatres in each country of Europe. The Roma theatre companies have got themselves on the map. Now it's time for the European leaders to make a move.
This project is part of the IETM Local Journeys for Change activity which is supported by the European Union as part of the IETM Network Grant 2022-2024 NIPA: the New International in the Performing Arts.