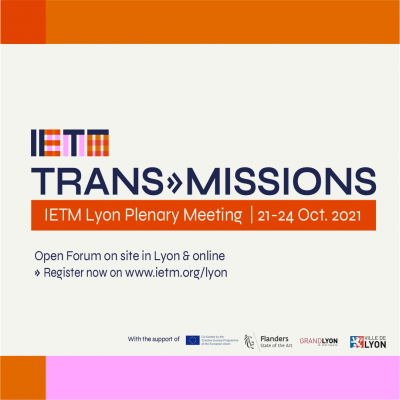 IETM Lyon 2021: Early-bird registration & Preliminary programme
Co-organised by a diverse team of IETM members, artists, cultural professionals and students with the support of the Ville de Lyon and Grand Lyon La Métropole, our next IETM Plenary Meeting will be held in Lyon, France, and online on 21-24 October 2021.
Under the umbrella notion of Trans-missions, the Open Forum format will provide a free space to invent, together, processes and methods which can serve our performing arts ecosystem. Considering the current context, the Meeting is humble yet ambitious, bold yet cautious, and, to some extent, experimental. Most of all, it is an opportunity to meet old and new friends and peers, and to celebrate the 40th anniversary of our network, which held its first formal meeting in France in 1981.
Learn more and register now for on site or online ➔
Both members and non-members are welcome to take part. Make sure to register before 30 September to benefit from the early-bird discount.
Preliminary Programme
In parallel to the Open Forum discussions, we will hold sessions throughout the beautiful city of Lyon, organised by topic and by location. The programme of each route will include forms such as artistic walks, visits of venues, local project presentation, working sessions and possibly an artistic intervention.
The Meeting will also include a some online networking sessions with the East and West of the Globe, small on-site speed-dating sessions, our long-missed late-night meeting point and an optional pre-meeting trip to Vorey and Clermont Ferrand on 20 October.
Some sessions are still subject to change, but you can already take a peek at what we've planned!
Check out the preliminary programme ->
Pre-session on Gender & Power
In this pre-meeting online session co-organised by IETM Lyon 2021 and our SHIFT project on 4 October 2021 (16-17:00 CET), we will present the results of our latest research on sexual harassment, bullying and power abuse in the European art field. This session will be followed by a discussion at IETM Lyon 2021.
Pitch your project at our Pitchorama
IETM Pitchorama is a session that offers IETM members to present a 5-minute video in which they pitch their project or ideas and tell participants in the room exactly what or whom they are looking for. Ready to pitch? Read more about the guidelines and apply with your video before 12 September 2021!
Plan your trip & stay
Lyon is the third largest city of France and second largest agglomeration. It stands at the confluence of two rivers, the Rhône and the Saône, which build the landscape of the city. To help you plan your trip and stay, we've prepared some practical info about the venues of the Meeting, the accessibility of the Meeting, how to get to and around Lyon, where to stay in the city and Covid-19 regulations.