In Search of Complexities: Documentary Theatre in Today's Russia
20/05/2020 by Anastasia PATLAY. Topics: Activism, Conflict, Freedom of expression, Human Rights, Identity, Inclusion, Politics
Anastasia Patlay talks about documentary theatre with Moscow-based company Teatr.doc.
This article was initially commissioned in preparation for the IETM Plenary Meeting in Tromsø, 30 April—3 May 2020, which was cancelled due to the COVID-19 outbreak. The meeting program was planned to discuss, digest, and discover the role of activism in performing arts, the relation between art and politics, and art as protest. These questions remained relevant in times of the pandemic, when IETM organised their Digital Journey to Tromsø to compensate for the canceled Plenary.
A confession: I'm not an activist, I'm an active theatre director. And, as I mostly focus on documentary theatre, I'm some kind of a detective. For me, that means I constantly investigate the reality around me or behind me—the past, both my own and that of my country, Russia—and test it for the truth. If I feel that something is falsely detected or defined, or something interesting is still undetected, I start digging. It's quite a hard and often very long way to develop a theatre project almost from scratch when you're led only by your passion.
I work with the Moscow-based company Teatr.doc, where we create plays through fieldwork; we conduct interviews, turn them into verbatim plays, and perform them on stage. Our documentary performances are often almost anthropological studies that introduce themes and characters to Muscovites who they do not encounter in their daily lives.
In its early years, Teatr.doc produced performances about laborers, prisoners, sex workers, alcoholics—people who were not represented on stage or in contemporary art in Russia. The company gave voice to those who lacked it because of social stratification and, as a result, social deprivation. Observers and journalists increasingly labeled Teatr.doc as "political theatre." The founders, Elena Gremina and Mikhail Ugarov, tried not to conform to the label—not because it was dangerous to be a political theatre, but because they valued their independence the most. That's something I feel, too. The plays I make are not "political plays." They are touching, sincere, and authentic, and they open up something new and make people think in new ways. The only way to ensure creative and personal independence is to be moved by your own passion and curiosity.
LGBTQ Stories
With Teatr.doc, when we start a new project, it's like traveling without a destination—we don't know where, when, and how it will end. Our play Out of the Closet began that way back in 2015, with several verbatim interviews with LGBTQ activists who had opposed the Russian law banning "gay propaganda." They had been persecuted and left the country.
Very soon we understood that the topic of coming out was a lot more urgent, important, complex, and interesting than the topic of resistance to the law. We started interviewing gay Russians, asking them about their coming out experiences to parents, friends, colleagues. As it turned out, the matter was complicated and controversial; each story was different. Then we met with their mothers, and a story about trust between parents and children arose—one that would resonate with everyone.
Out of the Closet was the first documentary play about gay people in Russia. But when I was working on the play, I didn't imagine it as cutting-edge theatre or a risky activist project. For me, it was a play about love and trust, about the courage gay people need to simply exist and live in the country.
We have been performing Out of the Closet for more than two years without attracting the attention of either homophobic activists or the police. Yes, there is a law banning "gay propaganda" among underage people. Yes, I consider it discriminatory. But operating in Russia, we have to follow even discriminatory laws, so we have always only performed the show for adults, even though we reckon it could help younger people establish trust with their parents.
Even under such circumstances, I never thought the work—which spoke to human values—would suddenly become a target. But it happened last year. Homophobic activists stormed into our theatre in Moscow, stopped the performance, offended the actors and the audience, and started a fight. The most frightening thing was that they were not punished, which sends a signal that both artists and LGBTQ people are not protected. What happened wasn't the actions of some crazy radicals—indirectly, it was supported by authorities.
Controversial War Stories
Another performance we did that received backlash was Kantgrad, which was called Russophobic. The documentary performance about post-WWII Kaliningrad (former German Koenigsberg) was based on the interviews with the first Soviet settlers in Eastern Prussia, now known as the Kaliningrad region, who had been ordered to move there by the government. These interviews told us about the violent actions of new Soviet authorities against the native German population of the city, the women, the children, and the elderly—stories that aren't told in the official narratives of the state, which focuses only on the heroics. The settlers witnessed how difficult it was to find common ground with their former enemy.
The play looks at the lesser-known historical period in a more controversial way than the formal history of WWII in Russia, where any unpleasant, shameful, and controversial fact or event is likely ignored, darkened, or even denied. Telling this story our way caused a number of problems.
It was our dream to perform Kantgrad in the city the play was about. In February 2019, two years after the premiere, we finally brought the show to Kaliningrad. All of a sudden, a number of organizational problems arose because of the authorities and far-right activists, which nearly led to the cancellation of the performance.
Our friends in Kaliningrad helped us find another venue and we performed anyway. After the shows there were discussions with Kaliningrad residents, and many of them cried remembering their forefathers who moved to the city in the 1940s and the 1950s, thanked us for the performance, and expressed regret that there had been no such performance in their city before.
Our next performance in Moscow unexpectedly was nearly canceled, too. It turned out that the police and the Centre for Combating Extremism had received complaints about our tour in Kaliningrad, and two officers came to the venue and told the boss to not let us play. We had to organize an almost-underground performance in another location.
Russians like to say: "You never know what hit you." Unpredictability is a common feature of life in Russia, and theatre is no exception.
Of course, such situations make us nervous, concerned about the safety of our colleagues, families, and ourselves. But because the accusations against our shows are more absurd than logical, because the actions of the right-wing activists and police are more violent than legal, we cannot allow fear to creep into our souls.
The Challenges of Independent Theatremaking
I start most of my projects without knowing whether I will find funding for the production; sometimes I get small grants, sometimes I do not. Almost always the money is only enough to pay the actors and build the set. It is almost never enough for research.
Sometimes we have no money for a project at all (for example, Out of the Closet was made without any). And yet we—my colleagues and I—work, and we don't complain. On the contrary, I only see benefits in this state of affairs: nothing can make me stop doing my project. In fact, the audience decides when they buy tickets to a show: they vote with their money for my performance. I am more than content with this immediate and effective feedback from the audience. In such a way I feel they need such a complex and independent documentary art.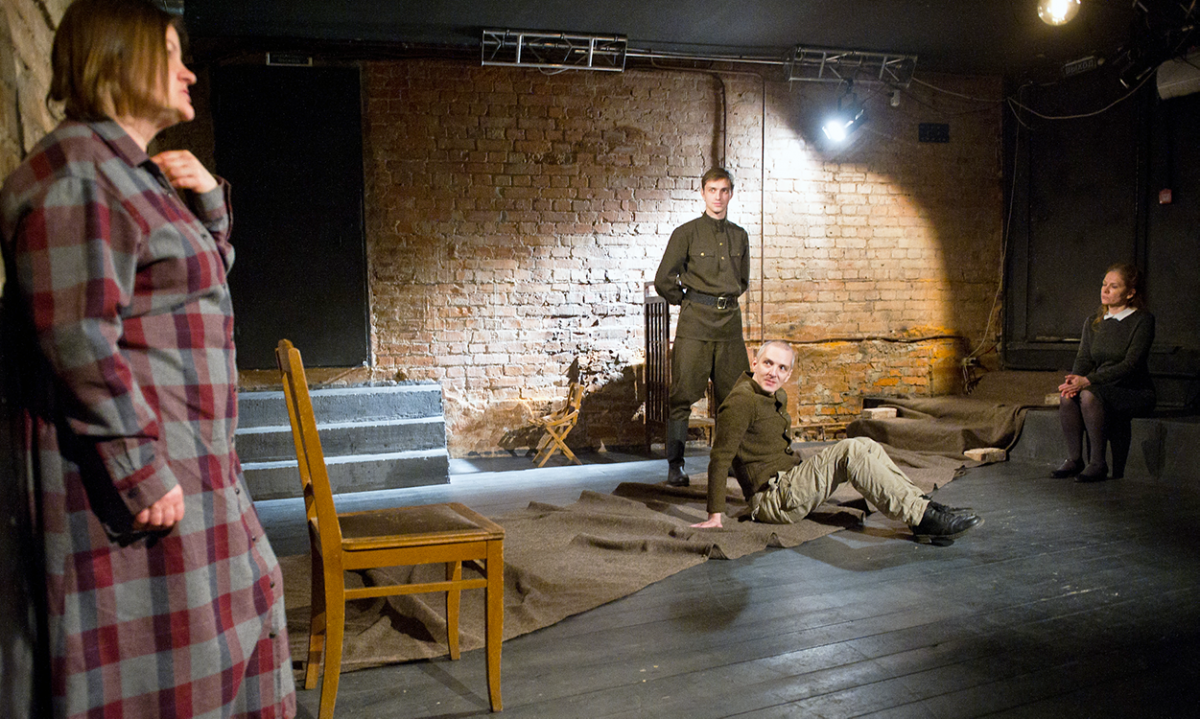 Creating Documentary Theatre
The other day, my co-creator and colleague Nana Grinstein and I announced an online workshop on documentary drama composition. We were shocked by the number of participants who joined the promo lesson—over seventy people from all over the world—and their engagement. Just a day later, we received twenty applications for the full workshop.
It seems like a strange time for people to develop an interest in documentary theatre. The COVID-19 pandemic is raging, cities everywhere are under quarantine, global and local economies are collapsing, theatres have shut down, and actors work as taxi drivers or cashiers, playwrights as copywriters.
But documentary theatre has always been larger than just theatre, more than just art. It is a tool to research and comprehend life, a way to discover something new and share the knowledge with others. It seems to me that the workshop attendees aren't choosing a new profession, they are choosing new optics: how to observe the world, understand it, reflect it. And the current moment, no matter how paradoxical it seems, only spurs interest in documentary theatre.
This article was originally published on Howlround on the 13th of May 2020. Read the original article.
Theatre Director, IETM Global Connectors 2021-22
My name is Anastasya Patlay. I'm a Moscow based playwright, curator, and theatre director. Born in Tashkent, I made my carrier in Moscow's documentary theatre Teatr.Doc. Since 2010, I have been collaborating with Teatr.Doc as an invited director and four of my last shows remain in its current repertoire. Other productions were made for Sakharov center (Moscow), Moscow State Museum of Architecture, Meyerhold Center (Moscow), The Ilkhom Theatre (Tashkent), Globus Theatre (Novosibirsk). I am also the director of the theatre programme titled Archeology of Memory at the Sakharov Center and the festival of documentary projects titled Hunting for Reality. I am regularly conduct trainings and workshops on practices of documentary theatre for different education institutions including HSE University and Moscow School of New Literature. I'm a participant of the theatre festival and the National Theatre Award, Golden Mask. My performances have travelled in Russia and abroad. I also was a ...