Time to Act report: preliminary findings published
26/07/2021. Topics: Advocacy, Cultural policy, Disability, EU, Inclusion, Status of the Artist, Working conditions
Last year, we helped to circulate a major survey produced by On The Move and commissioned by the British Council through Europe Beyond Access. Out now, their striking preliminary "Time to act" report highlights the barriers that disabled people experience when accessing the arts
Image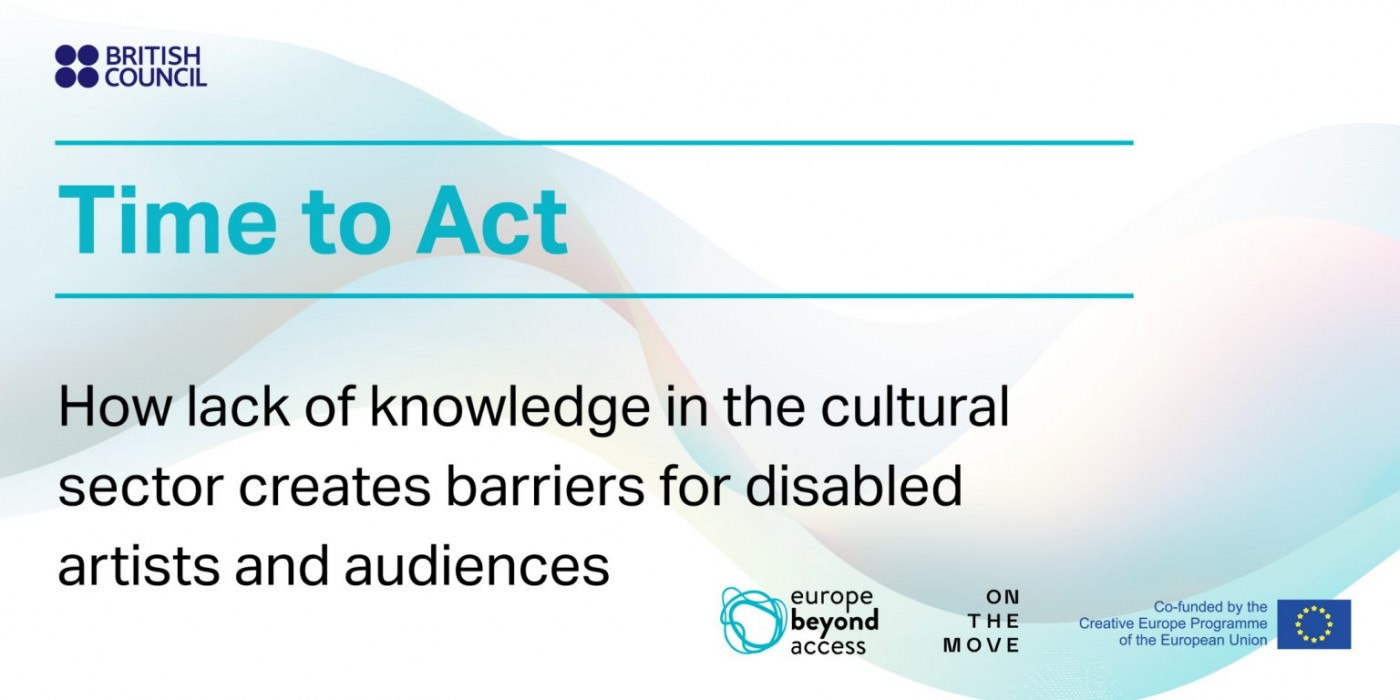 Photo credits
© Europe Beyond Access
Last year, we helped to circulate a major survey produced by On The Move and commissioned by the British Council through Europe Beyond Access. Out now, their striking preliminary "Time to act" report highlights the barriers that disabled people experience when accessing the arts. It also assesses the knowledge (and lack of knowledge) amongst performing arts managers across Europe concerning the inclusion and engagement of disabled artists and audiences.
The ground-breaking preliminary findings of this study spanning 40 countries are presented in the following areas:
The depth of knowledge around the creative work and practices of professional disabled artists.

How to make cultural programmes accessible to disabled artists.

How to make cultural programmes accessible to disabled audiences.
The report also provides some solutions to lift the barriers disabled people face when accessing the arts.
As we move through 2021, more research and follow-up case studies will be conducted to produce even greater levels of detail in these areas. Alongside there will be a series of events in which speakers in countries across Europe will respond and reflect on the findings.
---
Co-funded by the Creative Europe programme, Europe Beyond Access supports disabled artists to break the glass ceilings of the contemporary theatre and dance sectors.
The core partners of the project are British Council (operating for this project in the UK and Poland), Onassis Stegi (Greece), Holland Dance Festival (The Netherlands), Kampnagel (Germany), Per.Art (Serbia), Skånes Dansteater (Sweden), and Oriente Occidente (Italy).
Dissemination associates are IETM, ONDA (France), EUCREA (Germany), Acesso Cultura (Portugal), Instytut Teatralny im. Zbigniewa Raszewskiego / Theatre Institut (Poland), and ISPA.
Read the full content
The British Council is the UK's international organisation for cultural relations and educational opportunities. We create friendly knowledge and understanding between the people of the UK and other countries. Using the UK's cultural resources we make a positive contribution to the countries we work with – changing lives by creating opportunities, building connections and engendering trust. We work with over 100 countries across the world in the fields of arts and culture, English language, education and civil society. Each year we reach over 20 million people face-to-face and more than 500 million people online, via broadcasts and publications.
On the Move (OTM) in 3 points: 1. OTM is the cultural mobility information network active in Europe and in the world. OTM provides free, up-to-date and regular cultural mobility opportunities on its website, facebook page and monthly e-newsletter in English, French, Spanish and Italian.(http://on-the-move.org) 2. OTM also co-produces cultural mobility related guides for instance a guide on funding opportunities for mobile artists and cultural professionals in Europe (http://on-the-move.og/funding), a guide for emerging mobile artists (the guide Move on!), a green mobility guide for the performing art sector, a guide for European cultural journalists etc. 3. Finally OTM advocates for better conditions for mobile artists and cultural professionals through its Charter for a Sustainable and Responsible Cultural Mobility. Topics such as visas, social protection and taxation, environmental aspects of mobility are covered.