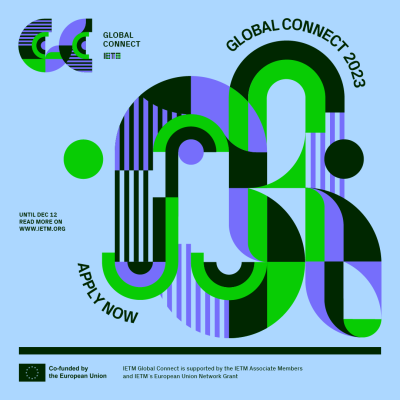 Apply for IETM Global Connect 2023
Following the success and strong impact on our network of the first round of IETM Global Connect 2021-22, a new call for applications for 2023 is now launched. Global Connect has the goal to strengthen our network with new and necessary voices and continue our work on inclusion, diversity and accessibility.
Thanks to the support of IETM's Associate Members and IETM´s European Union network grant, applications for IETM Global Connect 2023 are now open to performing arts professionals worldwide (producers, artists, managers, presenters, etc) who have at least 5 years of professional experience in the field. We are looking for professionals who are committed to increasing global awareness, inclusion, accessibility and connectivity – in the sector at large and in their own communities.
Selected IETM Global Connectors will have the opportunity to broaden their international connections, develop new skills and knowledge, actively share their perspectives with the network and bring new insights and learnings to their communities.
In order to achieve this, they will receive an IETM membership for 5 years (from the beginning of 2023 till the end of 2027), with free access to all of our meetings. Last but not least, they will receive funding support to take part in the 2023 IETM plenary meeting in Aarhus, Denmark and, as part of the plenary, in the yearly IETM Global Connectors Gathering.
Application deadline: 12 December 2022 at 17:00 CET
Read the application criteria and apply here
IETM Associate Members supporting the IETM Global Connect programme include: Arts Council England (UK), Arts Council Malta (Malta), Arts Council of Wales / Wales Arts International / Cyngor Celfyddydau Cymru / Celfyddydau Rhyngwladol Cymru (Wales, UK), Australia Council for the Arts (Australia), Belfast City Council, Northern Ireland (UK), British Council (UK), Canada Council for the Arts / Conseil des Arts du Canada (Canada), Creative Scotland (Scotland, UK), Danish Arts Foundation (Denmark), Dutch Performing Arts / Stichting Fonds Podiumkunsten (Netherlands), ONDA (Office National de Diffusion Artistique) (France), Pro Helvetia (Switzerland), The Arts Council | An Chomhairle Ealaíon (Ireland).