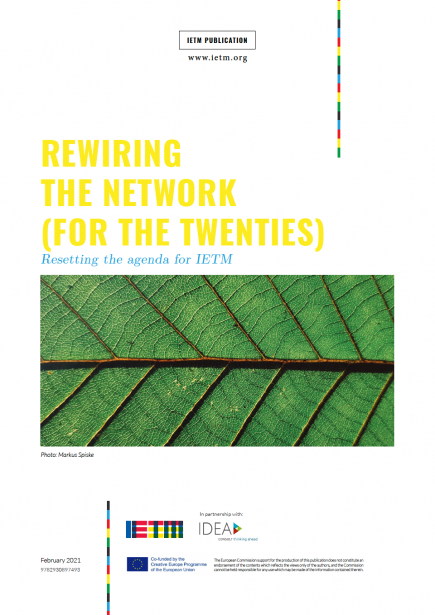 Rewiring the network: Resetting the agenda for IETM
Through Rewiring the Network (for the twenties), the members of IETM took part in a year-long journey to collectively engage in envisioning a transition into a more sustainable future for the network and for the performing arts.
Under the coordination of our research partner IDEA Consult, we have developed this transition from an artistic, social, economic, ecological and human point of view. We have identified current pressures and promises of the performing arts. We have identified alternative models, values, practices and experiments that we as a sector – along with our funders – should bring in from the margins to the centre.
The report of our work is now out and it marks a new beginning. This report is an accumulation of ideas which now need to be turned into concrete strategies for the coming years. Our work can provide IETM members with keys to change their own practices and organisations. Likewise, our findings can be of use for other cultural networks and organisations which are looking to change their existing methods and habits and to discover new ways to work together in a sustainable way, internationally.
You can download the full report, or read the executive summary.
You can also help us share the report by using this communication kit.
2021 marks the 40th anniversary of IETM. Being one of the first networks of its kind, IETM has stimulated international collaboration and networking and supported opportunities for artists, producers and presenters of performing arts ever since its founding in Polverigi in 1981. This is where we are, after 40 years of performing arts networking, setting sail for a sustainable future that will benefit the network and the sector at large.
Download PDF