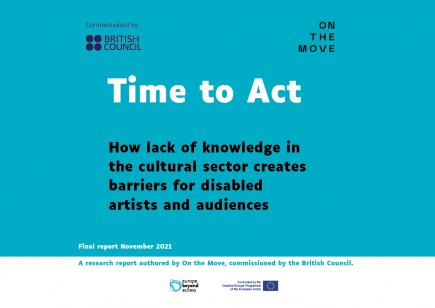 Time to Act: How lack of knowledge in the cultural sector creates barriers for disabled artists and audiences
A research report authored by On The Move, and commissioned by the British Council in the context of Europe Beyond Access.
Spanning 42 countries, Time To Act provides the first transnational evidence that lack of knowledge in the mainstream cultural sector is a key barrier preventing disabled artists and arts professionals participating equally in European culture.
How many European programmers are actively seeking work by disabled artists?
What are the barriers stopping mainstream cultural institutions becoming more accessible?
Who do Europe's cultural managers think should be providing guidance and support to help them make their programmes more accessible to disabled arts professionals?
These are just some of the questions answered by Time to Act.
Download the PDF of the whole Time to Act report in English below.