Rewiring the Network - Episode 1: The 5 promises and pressures of international cultural networking - Flashback to the eighties (and back)
20/04/2020 by Joris Janssens. Topics: Cooperation and development, Status of the Artist, Sustainability, Working conditions, Worldwide
The second episode of the series flashes back to past achievements of IETM since its misty origins in the early eighties, until now, and the conditions for the success.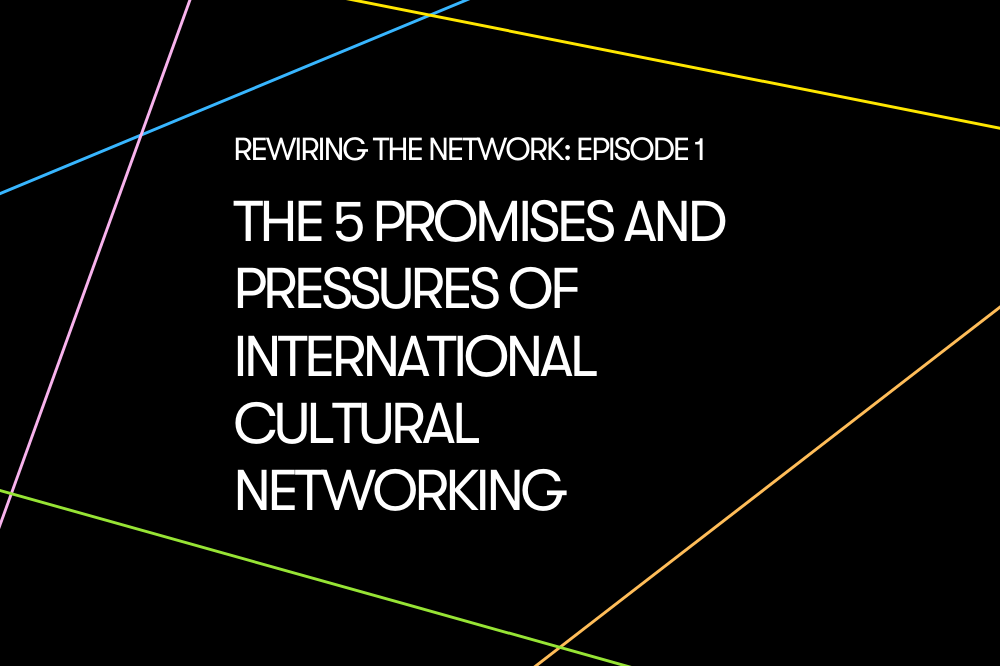 IETM was just preparing 'Rewiring the network for the twenties', an interactive trajectory to collectively design a more sustainable future for the performing arts, when the face of the world changed in a matter of just a couple of weeks. Could this corona crisis — which for now is increasing all the pressures on our work — also be the catalyst, breaking down and phasing out unsustainable practices and paving the way for a more sustainable future? Let's redesign our Rewiring trajectory in order to find out together. In a first blog post, we sketched the outline of our trajectory. In this second episode, we will look back on the early days. Why did we start international networking in the first place? What were the promises of international cultural networking? What were the achievements? And where are we now?
IETM today
Today, IETM is a "membership organisation which exists to stimulate the quality, development and the context of contemporary performing arts." Currently, the network has more than 450 members from more than 50 countries. They come from all sub-disciplines within the performing arts and take up all functions in the ecosystem (venues, festivals, companies, producers, independent curators, research and resource centers, networks, governmental bodies, artists…). Geographically, 88% of these members — organisations and individuals — are located in the European continent. The countries with the largest membership are France, the UK, Belgium, the Netherlands and Australia… The two annual plenary meetings have always been the backbone of IETM, but through time IETM's activities have diversified. There are smaller meetings, exchange programmes, research activities and publications, policy analysis and advocacy...
This is quite different from the origins. Originally, IETM was short for "Informal European Theatre Meeting". Today, the network is broader than theatre; it is also more than just European - with all its programmes which have been run in Asia and the Middle East in the past years, membership in Canada, US and Australia and partnerships in Africa and Latin America. A couple of years ago IETM kept the acronym but changed the baseline - "International network for contemporary performing arts". This is closer to what the network is about today. But how did it start?
The myths of origin
The idea of creating an 'informal European theatre meeting' was born in the summer of 1981, in Polverigi, a small village in central Italy. In 1977, Roberto Cimetta, an Italian theatre director and playwright, created the Inteatro festival in Villa Nappi, which the local mayor allowed him to use. Villa Nappi was home to theatre companies of all kinds, from all parts of the world. Cimetta and his colleague Velia Papa gave artists a place to meet to rehearse and find an audience.
In the festival, Cimetta and Papa invited their international colleagues. At that moment, there were a number of alternative festivals popping up, and people wanted to meet. On a summer night in 1981, some of these directors of festivals, alternative spaces and supporting organisations conceived the idea of organising regular meetings to talk about the development of their different projects [1]. It was Philippe Tiry, director of the French Office National de Diffusion Artistique (ONDA) who organised the founding meeting of IETM in Paris in the fall of 1981.
There were only less than 10 people on that summer evening in Polverigi and  60 people at the founding meeting in Paris. But you can find almost 100 people who would claim they were part of these legendary meetings… This exaggeration might be illustrative of the vibe, the energy and the dynamic at the time, and of the success of IETM as a pioneering international network. Why was the network so successful, at that moment within that context? Let's try to grasp some key features of the broader context for contemporary performing arts in the early days of IETM.
One first important thing to point out is 'official' international collaboration was very much driven by governmental bodies for cultural diplomacy, such as for instance Goethe Institut, Institut Français,... next to cultural diplomacy platforms such as the Europalia festival, which started in 1969. There was a growing need for non-government driven connections, starting from artistic rather than national premises.

Second, the international performing arts landscape at that moment was dominated by the large festivals which had existed since the 1950's, such as Wiener Festwochen or Holland Festival. There was a need for space for smaller and younger players.

Third, there was a tangible division between the Western and the Eastern parts of Europe, which started after the Second World War. It was quite difficult to work across the so-called "iron curtain". Therefore, people needed networks in order to create a more equal space for cultural exchange in Europe.

Fourth, of course, these were the days before internet and email, Facebook, Youtube or even DVDs… In terms of communication technologies, the end of the seventies were, at best, the golden era of the fax machine.
But at the end of the seventies, a lot of new, alternative, small-scale and not well-funded festivals, such as Festival of Fools, Kaaifestival, Festival de Nancy, Copenhagen International Festival, to name a few were being put up by people such as Roberta Cimetta, Hugo Degreef, Trevor Davies,and more. Also, smaller and alternative venues joined the informal network. These were cultural entrepreneurs avant-la-lettre, setting up festivals but also doing many other things to support the work of artists. For instance, they also developed new possibilities for artists to produce work, via co-productions, for instance. Some even set up producing organisations, started lobbying with cultural policy-makers, and organise networking spaces and fora. In these efforts, they were supported by intermediary organisations, such as ONDA and VTC (the Flemish Theater Circuit, now Flanders Arts Institute), where Guido Minne kindly offered to host the first IETM office, from 1984 onwards. Hilde Teuchies started working there as an international relations officer and later became the first Secretary General, when IETM was established as an international association under Belgian law in 1989.
The 5 promises of international networking
In predigital times, these entrepreneurs organised networking meetings not only to strengthen alternative venues and festivals in their countries. The ultimate goal was to collectively develop a thriving ecosystem for contemporary performing arts in the whole of Europe. For this, knowledge was crucial, and the meetings were the place to bring the acquired experience and know-how together. First, the pioneers talked about artistic developments and interesting artists and initiatives. In the early days, IETM was really very much about detecting talent. Who are the good artists, what is interesting work? Second, IETM was also the place to exchange practical know-how. How to set up an international festival? How to deal with practical issues, such as visa, taxes and other international mobility issues? Third, exchanging strengthened the advocacy. What arguments could be used to develop policies for contemporary performing arts (which were quite exceptional at the time in Europe)?
Looking back on the early days of international cultural networking, the following points might be considered as the 5 promises of international networking for the performing arts:
Stimulating international mobility throughout the whole of Europe, beyond the borders of East and West.

Creating opportunities for artists, not only touring of productions but also longer-term relationships between artists and venues.

Developing production capacity, by not only exchanging knowledge but also by pooling co-production resources.

Developing public support and policies for contemporary performing arts.

Democratisation of contemporary performing arts, by creating the right context for presentation.
***
The successes of international networking
Forty years later, the crucial question of course is: were these promises achieved? What was the concrete impact of all this networking? What did it eventually bring us? Let's start with the positive take on things. One day, a more elaborate history of the achievements and impact of IETM will be written. For now, it is safe to say that the networking was successful for a very long time, at least for thirty years. All this international networking did have a decisive and prolific impact on the development of innovative performing arts initiatives across Europe. The growth of the network, from 10 to approximately 500 members today, could be read as a first sign of this success. Second, we saw a proliferation of specialised cultural networks. IETM was one of the first, but many others followed. 'A fairly recent list, <...>, suggests an estimated total of around 300.' [2] Many of these were indeed IETM offspring: 'It spun off several networks: NewOp/NonOp (new music theater and opera forms), ENICPA (European Network of Information Centers for the Performing Arts), EuNETart (European Network of Art Organisations for Children and Young People), Junge Hunde (emerging artists), DBM (contemporary dance in the Mediterranean area) and several co-production consortia such as Seas and Balkan Express (bringing together performing artists from South East Europe).' [3]
These European cultural networks also cooperated, certainly for their advocacy initiatives. In the nineties, IETM, with other networks, contributed to the creation of the European Forum for the Arts and Heritage - now Cultural Action Europe. Together, the networks were very active in making the case for culture on the European level and they were certainly an important driver for the development of European cultural policy initiatives. They managed to do so, because artists and cultural operators were indeed drivers of European integration. In the slipstream of the fall of the Berlin Wall, they put this promise of international mobility and cultural exchange between the East and the West into practice. International networking was beneficial for connecting artists and venues on either side of the former Iron Curtain. It allowed the independent scene in Central and Eastern Europe to connect and develop internationally, in this post-transition situation, with for instance the Arca Theatre in Prague, Eurokaz Festival in Zagreb and Trafo in Budapest as some of the pivotal players.
To further demonstrate the impact of international networking, we can take the situation in the performing arts in the Flanders and Brussels region as a case. Basically, the story goes like this. In the 1980's, there was almost no public support — policies nor funding — for contemporary performing arts. It was through international networking that now well-established artists such as Anne Teresa De Keersmaeker, Wim Vandekeybus or Alain Platel could work, produce and tour in the first place. Only afterwards, recognition in their own country followed. The funding increased and — more importantly — with the Flemish Performing Arts Decree (1993–2005) and the Flemish Arts Decree (2006-…) a radically bottom-up policy framework was developed, which allowed artists and organisations to connect and collaborate ad libitum on the international level. The statistics continued to show the growth and the internationalisation of the Flemish performing arts. The range of countries where Flemish companies performed increased and globalised. The same goes for the number of international co-producers: the international network grew and performing arts production increasingly took place in a transnational system for production and presentation. In the emergence of this transnational performing arts system, the networks were the driver and the accelerator.
Some major shifts in the 10's
International performing arts networking was quite successful, but at a certain moment some major shifts happened. 2010 might be seen as a pivotal point. After the near-collapse of the global financial system in 2009, most European countries cut their budgets for contemporary performing arts. This put severe pressure on the collaborative practices in our transnational system for production and presentation. What happened? Instead of doing less because there is less money, the immediate response of many performing arts organisations was to reduce the level of co-production and presentation fees, in order to keep up the same level of production and presentation - and remain visible in an increasingly competitive system.
While those solutions were tested and implemented, the network has continued to grow, its nodes have become more vulnerable and the connections have become weaker: there were more and more players, but those were smaller and more vulnerable. Moreover, when the number of coproducers in a production tends to grow, the involvement and engagement of these coproducers tends to diminish - certainly if the discussion tends to be less about the artistic work, and more about how to develop the budget.
Thus, trying to find short-term solutions for economic issues, the sector made the network more fragile. Not all our answers to the economic crisis of 2009 appeared to be sustainable, in the literal sense of the word: as they cannot be sustained for a longer period of time.
Moreover, there were two other major societal shifts which have marked the last decade. First, our the impact of human behaviour on the environment and our increasing awareness of the climate emergency. Second, the worrying geopolitical developments in Europe and beyond. For a long time, the idea of European integration was our major narrative and we were the drivers in this story, the Bulgarian political scientist Ivan Krastev argued in his essay After Europe [4]. But since a couple of years, the idea and possibility of European disintegration have been gaining ground, with Brexit coming into place, the rise of Eurosceptic parties everywhere and the democratic election of illiberal parties. While the European cultural policies keep being depoliticised and serve economic agendas, we are observing a re-culturalisation of politics in many countries, where national identity politics are gaining ground.
The 5 pressures of international networking
Today, when we look at the current situation in the performing arts internationally, the question is more than ever whether we can still keep up these 5 promises of international networking? For each of them, one might say that these promises (in blue on the left) have been coupled with increasing pressures (in red on the right). This is a scheme that might summarise our current predicament: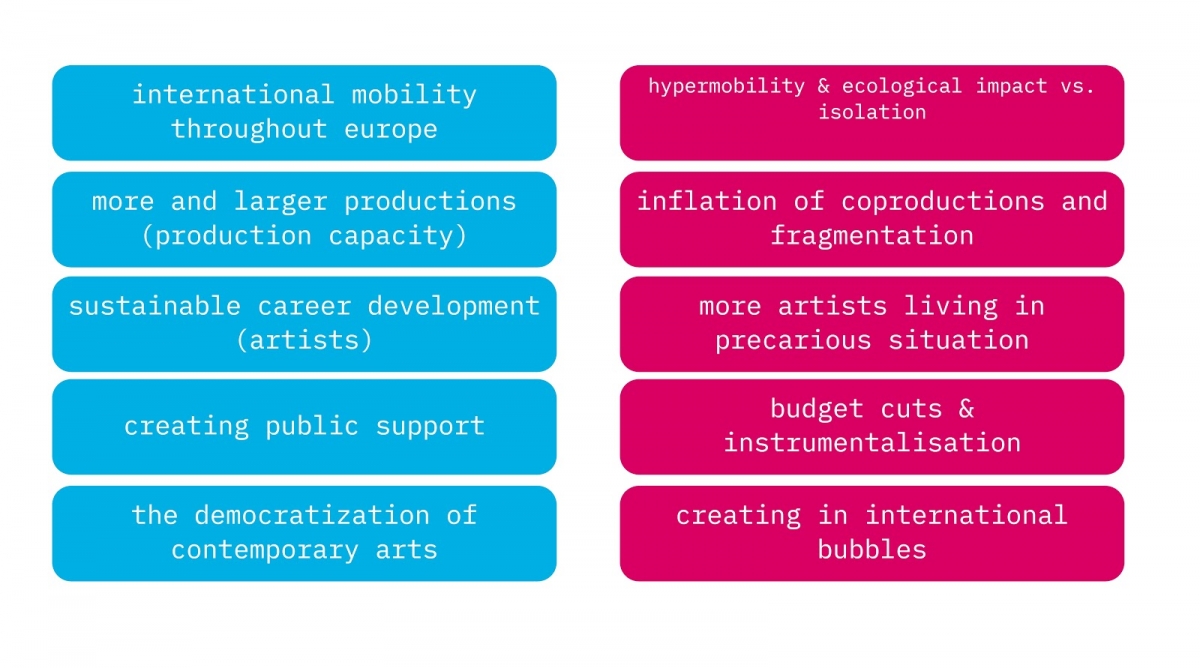 The first promise was increased international mobility, both for East and West. The reality is different and diverse. Many performing artists find themselves in a situation of hypermobility — where they are forced to move because of the way the system is organised. Many others find themselves in isolation and face lack of mobility. In how far is mobility a choice? Ironically, the current pandemic crisis has been a leveller in this respect…

Second, the promise of international networking was that  international collaboration would give life to  productions that would otherwise be impossible, by bundling forces. But, as the economic pressures increased, we saw the opposite: producing companies are fragmenting their production capacity.

Third, the idea was that, through connections and collaborations, professional opportunities would be created for artists, also on a longer term. Instead, two of the main issues in the sector today are socioeconomic precariousness and unsustainable working conditions.

The promise of international networking was that, through collaboration, we could strengthen the case for the performing arts on different government levels. While we can say that there have been a lot of achievements at certain moments in certain places, the general feeling in 2020 is that the story does not sell any more. The public support for contemporary art is under an enormous strain, often instrumentalised for various causes, such as economic agendas or national identity politics.

Ultimately, international collaboration was meant to democratise the contemporary performing arts. But did we achieve this? Research continues to show that, despite our efforts, it remains very difficult to overcome the traditional sociocultural barriers, such as class, education level, age, domicile, etc. Overcoming these barriers requires an important effort which takes skills, engagement and continuity. The current circumstances are not favorable to break out of the proverbial bubble. When increasingly forced to work internationally at high speed, many artists find it difficult to come out of this international performing arts bubble, and develop meaningful relationships with local scenes and local audiences.
So, what now?
So, where are we now, after 40 years of performing arts networking? For a long time, international cultural networking has proven to be very successful, and the performing arts were pioneers. Since ten years, we have seen major shifts both in society and in the way our sector responded to this. All of us are trying to develop answers, approaches and solutions. But we are increasingly aware that answers we have been developing (successfully for many years) might still seem useful on the short term and for ourselves individually, but not sustainable on a longer term and for the system as a whole. Fortunately, this is only partly so, some other solutions that we have developed might well be sustainable. In the next episodes of this blog series, we will map both the current unsustainable short-term practices and strategies and the weak signals of a more sustainable future, as they have been put on the table by you — in the answers to a survey that we sent out last month…
Stay tuned.

---
[1] Present: Philippe Tiry, founder/director of ONDA (l'Office national de diffusion artistique); Patrick Sommier (Director, MC93); Steve Austen (Director, TIN); Gordana Vnuk (Eurokaz); Hugo de Greef (Kaaitheater); Branko Brezovec (representing the festival Young People's Theatre Days of Dubrovnik); Jean-Pierre Thibaudat (theatre critic, La Libération), Roberto Cimetta and Velia Papa, Director and Assistant Director of the Polvergi Festival.
[2] Ivor Davies, 'Cultural Networking in Europe. Today and Tomorrow. A Reader.' Brussels: Culture Action Europe, 2016.
[3] Dragan Klaic, Mobility of Imagination. A companion guide to international cultural cooperation. Budapest: Centre for Arts and Culture, p. 81.
[4] Ivan Krastev, After Europe. Philadelphia: University of Pennsylvania Press, 2017.