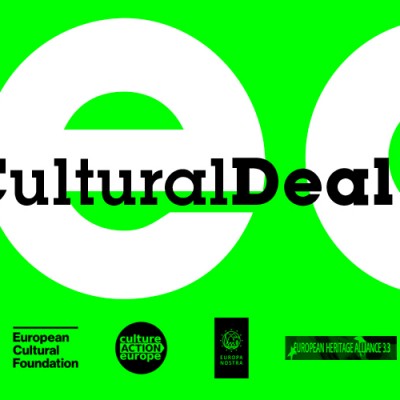 A cultural deal for Europe - #CulturalDealEU Campaign
There is no recovery or future for Europe without culture. The European cultural ecosystem is convinced that Europe needs a new Cultural Deal, a transversal, overarching framework that should demonstrate the EU's political commitment to place culture at the heart of the European project. A Cultural Deal for Europe is a call from a wider European cultural community to acknowledge the pivotal role of culture in shaping the future of our lives.
Culture Action Europe, European Cultural Foundation, and Europa Nostra (representing the European Cultural Alliance) jointly proposed a Cultural Deal for Europe framework. This overarching strategy aims at placing culture at the center of the European project and mainstreaming it across all policy fields: from the green transition to Europe's geopolitical ambition and from the digital shift to a value-driven Union. It focuses on both facilitating the contribution of culture to Europe's sustainable development and providing the sector with the credibility and resources for realising its full potential. By bundling together both short and long term objectives, Cultural Deal for Europe is envisioned as a roadmap towards a more balanced, more comprehensive, and more inclusive European development model.
A Cultural Deal for Europe calls for the following:
Devoting at least 2% of the EU Recovery and Resilience Facility for culture. The RRF represents 85% of the Next Generation EU Recovery Fund and will be implemented through national plans that are crucial tools to empower and enable cultural operators to act on a European scale.
 
All national recovery and resilience plans must show due evidence of cultural and European relevance. Call on the EU Institutions to encourage and monitor the Member States to consult cultural operators in the design of the plans.
 
Full inclusion of culture in the 2030 Sustainable Development Agenda and the European Green Deal. A holistic strategy for an inclusive, fair and sustainable development needs to have a strong cultural dimension.
 
Make sure funding for culture is mainstreamed into other relevant EU programmes and actions, notably Horizon Europe, Erasmus+, Digital Europe, European Skills Agenda, Cohesion and Regional Development Funds as well as Europe's external action.
 
Relevant and timely support to cultural workers. Enable policies and measures to improve their employment and working conditions.
 
Philanthropy to be associated strategically in the recovery of Europe and design of its future by enabling a legal and fiscal framework for European philanthropy to unfold, and new forms of public-philanthropic partnerships to develop.
 
Upholding democracy and rights for a values-based Europe. Culture has a powerful potential to advance the European values, which are central to our democratic societies.
 
Culture is key for the EU's external relations. Reiterate the need to strengthen the role of international cultural relations in the EU's foreign, neighbourhood and sustainable development policies.
 
Culture for the future of Europe. Artists, creatives, cultural workers, heritage operators, independent, amateurs, non-profits, volunteers, and civil society organisations must be made an intrinsic part of the process. 
You can read the full Joint Statement here.
Cultural Deal for Europe is jointly developed by Culture Action Europe (CAE), the European Cultural Foundation (ECF), and Europa Nostra, also in its capacity as coordinator of the European Heritage Alliance.
You can find out more about the #CulturalDealEU campaign here.