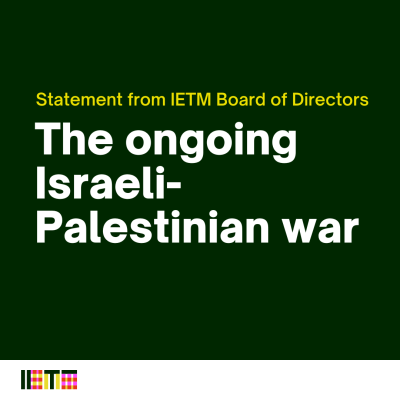 Statement from the IETM Board of Directors on the ongoing Israeli-Palestinian war
IETM condemns the killing of innocent people in the ongoing Israeli-Palestinian war. We are shocked by these terrible acts of violence and must never forget our shared humanity.
War crimes are being committed and IETM urges the international political communities to call for a ceasefire and put pressure on the Netanyahu government in Israel to follow humanitarian international law, in the same manner as they had global condemnation of Hamas. No circumstance or cause can justify acts of terrorism from both sides, taking innocent lives.
IETM wishes for a swift end to crimes of war, ensuring immediate humanitarian aid for Palestine, the safe return of hostages held by Hamas and for a long term and just peace solution to be negotiated.
IETM is a network of international performing arts organisations and creatives who believe that cooperation contributes to greater mutual understanding and respect for different cultures. We strongly condemn all forms of violence. The oppression and horrendous events that are currently taking place are a tragedy for humanity. IETM hopes to make its own contribution to a more peaceful world through its mission of bringing people together - no matter how far that ideal seems to be from us today.
- The IETM Board of Directors