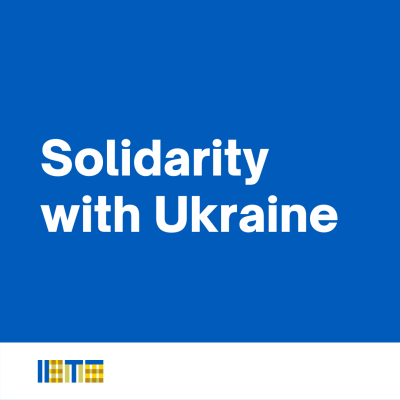 Solidarity with Ukraine
IETM – International network for contemporary performing arts fiercely condemns Putin's regime invasion into Ukraine.
As advocates of freedom and democracy, IETM stands in solidarity with Ukraine, its people, its artistic community and our Ukrainian members. Our hearts go out to our Ukrainian colleagues and friends who are fighting for their freedom and for their lives. A united international network, IETM speaks against conflict, injustice and violence, and for dialogue, understanding and peace.
We at IETM see it as our responsibility to support the Ukrainian artistic community and artists at risk, in the most relevant and meaningful way, and are currently working on how we can best mobilise our membership in this regard. We encourage our members and global artistic communities to take note of the advice given by expert organisations on how you can donate to the cause, stay informed and offer emergency support.
Donations
We encourage you to donate to organisations who are offering humanitarian aid in Ukraine. Below are four organisations which we recommend, based on expert advice:
Nova Ukraine: A US-registered foundation offering help for ordinary people and families with children. Operating since 2013.

International Committee of the Red Cross (ICRC): An independent worldwide organisation which has set up a dedicated fund for Ukraine.

Polish Humanitarian Action: A Polish organisation which has been active for a long time in eastern Ukraine.

Artists at Risk: Last but not least, we encourage you to consider donating to our colleagues at Artists at Risk, a non-profit network institution dedicated to mapping the field of persecuted art practitioners, facilitating their safe passage from their countries of origin and hosting them at AR-Residencies.
Artists at Risk
Artists at Risk (AR) is a non-profit organisation at the intersection of human rights and the arts working to provide artists from Ukraine with emergency resources, travel aid, and residencies at host institutions across Europe. Since 2013, AR has been collaborating with arts non-profits and government funders to assist artists who are at risk politically and fleeing oppression and war in 26 locations in 19 countries globally.
Today AR is at the forefront of the Ukrainian refugee crisis as it affects artists. They are focused on helping artists to safe landings in nearby countries and welcoming artist communities.
Help or ask for help
Do you have open residency slots, temporary housing, or access to local grants? Do you know someone who needs information on getting out or getting support? Are you an artist or cultural worker at risk of politically motivated threats and persecution? Please contribute with your resources or ask for support through the different available forms by consulting and sharing the Artists at Risk resources page.
Become a volunteer
To join the AR-Solidarity Groups, please write to info@artistsatrisk.org. They specifically need "Match-Makers" between those who help and seek for help, and people for the "Visa and Document" Solidarity Teams.
Donate
Please also consider donating directly to their fund to help artists at risk in this great time of need on this page.
Further useful links
Update of 17 March 2022:
On 9 March 2022, we organised an online IETM discussion with our members, other networks, Ukrainian colleagues and the founders of Artists at Risk. The aim of the discussion was to get some first-hand insights about the situation and to understand how we, professionals from the international performing arts sector, can support our colleagues and their relatives in the most relevant and meaningful way.
These are some of the useful links that were shared during the meeting: