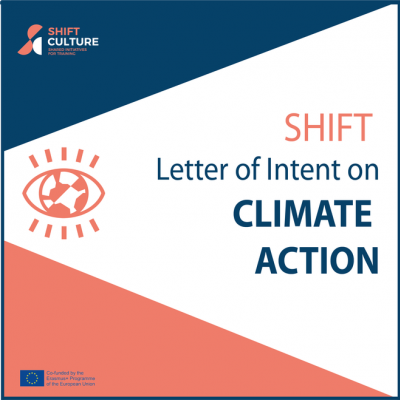 SHIFT Partners sign a joint letter of intent on climate action
In the context of the UN Climate Change Conference COP26 in Glasgow (United Kingdom), we and our SHIFT project partners, have come together to take Climate Action.

This joint ambition emerged from the SHIFT project, co-funded by the Erasmus+ Programme of the European Union. The letter of Intent on Climate Action is an important step towards uniting forces to tackle the huge worldwide challenge of climate change. The goal of the networks' cooperation is to develop and implement a framework consisting of environmental guidelines for cultural networks and a certification scheme.

The undersigned European and international cultural networks recognise the ecological footprint associated with operating a cultural network. We are all committed to minimising this footprint, optimising environmentally sustainable practices, and acting as an example of good practice for our members and other networks, while also recognising the different contexts in which we are evolving. It is our aim to contribute to the following UN Sustainable Development Goals in this certification scheme:

• Goal 11 – Sustainable Cities and Communities

• Goal 12 – Responsible Production and Consumption

• Goal 13 – Climate Action

• Goal 14 – Life below Water

• Goal 15 – Life on Land

• Goal 17 – Partnerships for the Goals

Special thanks to the Green Leisure Group and Creative Carbon Scotland for contributing their expertise to this process.
READ THE SHIFT LETTER OF INTENT
---
About SHIFT
The SHIFT – Shared Initiatives for Training project aims to provide training and skills for cultural leaders, specifically those of cultural networks. Cultural leaders shall be enabled to implement changes where needed and to pass on their knowledge gained through the project to leaders and staff members of their network, as well as to the broader cultural sector.
Being a part of the SHIFT project alongside eight other European cultural networks, we are leading the project strand on Gender & Power Relations and contribute to the packages on Climate Changes and Inclusion. The project is coordinated by the European Music Council.
SHIFT is co-funded by the Erasmus+ programme of the European Union and was initiated by nine European cultural networks: European Music Council; European Choral Association – Europa Cantat; ELIA - European League for Higher Arts Education; European Union of Music Competitions for Youth; Fresh Arts Coalition Europe; IETM - International network for contemporary performing arts; International Music Council; On the Move; and Trans Europe Halles.