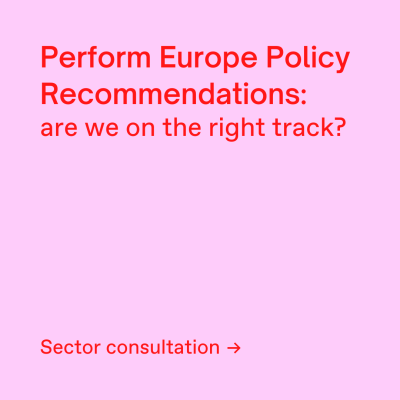 Sector Consultation: Perform Europe Policy Recommendations
Are we on the right track?
Perform Europe is entering its final phase of digesting our learning points and developing final policy recommendations.
We are reaching out to our members and the wider performing arts sector in the hope that they will support us one last time by offering their advice and unique insights on our policy recommendations.
We have seven statements that we would like to hear your thoughts about. We welcome you to read through them and share your thoughts with us. You can find the statements at the botton below.
Please note that you can skip topics and react only to the ones that you find most important.
Deadline for input: 23 May 2022
---
About Perform Europe
Perform Europe supports experiments to make touring of performing arts works in Creative Europe countries more sustainable and inclusive. The overall aim is to design a future support scheme for cross-border touring and digital distribution of the performing arts.
Perform Europe is funded by the Creative Europe Programme of the European Union and co-managed by IETM – International network for contemporary performing arts, the European Festivals Association (EFA), Circostrada, EDN – European Dancehouse Network, and IDEA Consult.