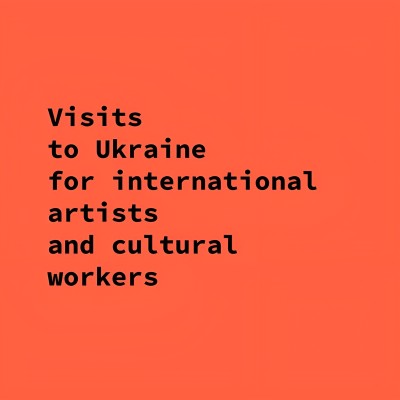 Visits to Ukraine for performing art and cultural professionals: program of professional exchange trips
Proto produkciia agency together with partners this autumn will implement a number of professional trips to Ukraine for cultural professionals. We are inviting professionals from Germany, Austria, France, Italy, and Spain. We cover travel costs, accommodation and meals, as well as support program and connection to local professionals. You can express interest to participate in visits until 11 of August via link. 
Calendar and topics of visits in 2023
September 18-24 for performing artists.
October 9-15 for visual artists (including photography).
October 16-22 for representatives of independent art / cultural media.
November 6-12 for critics and curators of contemporary art.
November 13-19 for cultural managers and art producers.
"Visits to Ukraine for international artists and cultural workers" is an intention to see and try to understand how war affects a modern person, an artist and an art institution in particular, how it changes society, priorities, and roles. The project will include networking events, visits to areas that were under occupation, showcases of art projects or/and exchange events. 
The Russian full-scale war against Ukraine has had a critical impact on the humanitarian, social, cultural, artistic, environmental and other sectors. Moreover, the further it goes, the more profound and irreversible this impact is. Even after the victory, Ukraine will be recovering and rebuilding for a long time. 
Who will join the visits?
We are inviting performing artists from Germany, Austria, France, Italy, and Spain. 
Professionals who are interested in learning the current context in Ukraine and incorporate it in future work to one week visits in Kyiv.  
Practical information and conditions
We will provide travel costs, accommodation, meals, and cover all expenses related to the activities. 
There is no fee for project participants. The project is seen as a possibility for research and building up connections and contacts for future collaborations.
If you are interested in participating in the project during autumn 2023, fill out the interest request via the link until 11 of August.  
Security
Safety is a priority for us, and therefore we will conduct a safety briefing regarding aviation incidents, provide first aid kits, and insure participants. All accommodations and events will be organized in locations with nearby shelters. However, it should be understood that this is not 100% safe.
If you are willing to join or have any questions, please contact us via Odarenko@proto-produkciia.com — project manager.
The project is implemented by Insha Osvita for financial support of the Prague Civil Society Centre as well as with Asortymentna kimnata and proto produkciia.