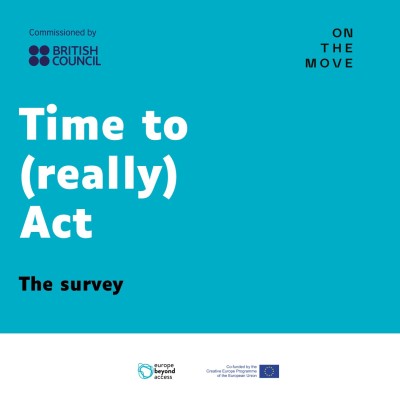 Time to (Really) Act: Follow-up Survey
Time to (Really) Act: Follow-up survey into European Performing Arts Venues and Festivals, including their knowledge of, and accessibility for, Deaf and disabled performing artists.
Deadline: 30 January 2023
British Council has commissioned On the Move, the international cultural mobility network, to conduct a follow-up report to Time to Act: How lack of knowledge in the cultural sector creates barriers for disabled artists and audiences. Research leading to Time to Act, conducted in 2020/21, found significant knowledge gaps in the European performing arts sector as regards the needs of disabled artists and audiences, as well as the works created by disabled artists. The new report, to be published in 2023, will take stock of the learnings of the Time to Act report while highlighting key areas to delve into and act on for more systemic changes, particularly for disabled artists.
The report is part of the Europe Beyond Access cooperation project, co-funded by the Creative Europe programme of the European Commission and aiming at supporting disabled artists to break the glass ceilings of the contemporary theatre & dance sectors. The core partners of the project are British Council (operating for this project in the UK and Poland), Onassis Stegi (Greece), Holland Dance Festival (The Netherlands), Kampnagel (Germany), Per.Art (Serbia), Skånes Dansteater (Sweden) and Oriente Occidente (Italy).
In this context, On the move would like to ask your collaboration by filling in this new concise questionnaire. It is addressed to cultural professionals involved in performing arts venues or festivals, e.g. as artistic directors, programmers, curators, general managers, chief executives, creative producers, cultural managers, etc. Responding should not take longer than 10-15 minutes.
Please note that this questionnaire is open to all professionals (disabled and non-disabled) including those who have no or limited experience with programming or supporting artists with disabilities.
Thank you for your time! Don't forget that the questionnaire is available in English and will be soon available in French, Italian, Polish, Spanish, and Swedish. If you are not comfortable in any of these languages, you can also respond in your own language and we will make sure to translate your answers (email contact: mobility@on-the-move.org).