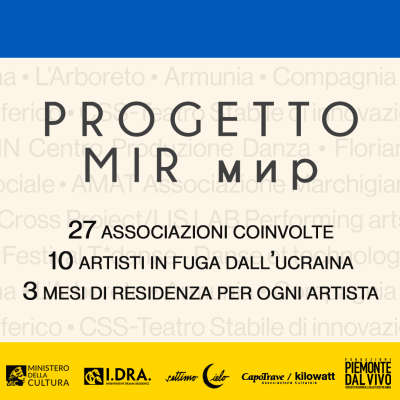 Project MIR (мир)- residencies for peace
Press release
Project MIR (мир)- residencies for peace
Twenty-seven Italian residencies dedicated to innovation of languages in the field of contemporary performing arts have created a national network of solidarity to host ten artists fleeing Ukraine in recent months.
Thanks to the stimulus of IETM and the active help of Artists at risk and Ukrainian Cultural Foundation who contributed to the indispensable function of promoting the project in Ukraine, an articulated residency program to host Ukrainian artists in Italy has been developed. The strength of the Italian residency model has always been the widespread distribution of the venues on the territories and the close connection between the residencies themselves, so that, through intense coordination work, it has been possible to organize four groups on a territorial basis and guarantee each artist a stay for a period of at least three months, in the hope that they can then return to their country. The basic principle of these residencies is that, in addition to naturally offering humanitarian aid, the artists will be enabled to create, will be paid for their work, and will be put in contact with social and artistic local actors.
The project, coordinated by Idra teatro, is strongly supported by three other local coordinators CapoTrave/Kilowatt, Settimo Cielo, and Piemonte dal Vivo and their municipalities, and could not be realized without the passion and commitment of the residencies that have put in both economies and skills: Officine CAOS/Coop Stalker Teatro, Cross Project /LIS LAB Performing arts, Associazione culturale IDEAGORA' (PerformingLands_Festival Mirabilia), Festival T*danse - Danse et technologie, (organizzato da TIDA , Residenze off centre/progetto Tracce/Art Waves - CSP ) with il Arvier Municipality, Fabbrica Europa, Teatri di Vita, La Corte Ospitale, Spazio Zut, La Mama, L'Arboreto, Armunia, Compagnia Teatro Akropolis, Olinda onlus, Dual band, Karakorum Teatro, Teatro Periferico, CSS-Teatro Stabile di innovazione del Friuli Venezia Giulia, Qui ed ora, Ilinx, Cie TWAIN Centro Produzione Danza, Florian Metateatro – Centro di Produzione Teatrale e Arti e Spettacolo Impresa Sociale, AMAT Associazione Marchigiana Attività Teatrali ,Teatro Area. The project has obtained a small support from the European network "Be SpectACTive" (an EU-funded project in which CapoTrave/Kilowatt is the lead partner of 18 partners), which decided to invest a part of the common resources obtained from the EU on 4 projects for hosting Ukrainian artists in the network's partner theaters and festivals in Italy, Belgium, Czech Republic and Hungary.
The project is also supported by MIC- Ministry of Culture in partnership with the Municipality of Arsoli, Municipality of Brescia, Municipality of Collegno, Municipality of Sansepolcro and 4 opera foundations: the Accademia Nazionale di S. Cecilia in Rome, Teatro alla Scala in Milan, Teatro dell'Opera in Rome, Teatro Maggio Musicale Fiorentino, Teatro Regio in Turin.
In such a bleak period, the MIR project wants to show that even art through collaboration and solidarity is capable of offering a concrete response to the ongoing humanitarian crisis in Europe.