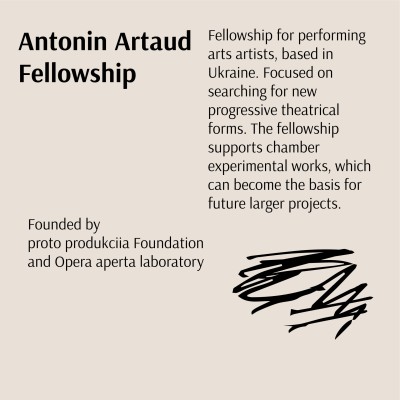 Looking for collaborations and contributors for the project which supports performative artists who continue their work in Ukraine
Last year Ukraininan agency Proto produkciia established Antonin Artaud Fellowship which has been designed to support emerging artists and cultural managers from the performative art field who are staying and continuing their practice in Ukraine. The Fellowship focuses on the search and development of new progressive theatrical forms. The project supports chamber experimental works which can become the basis for future larger projects. 
Around a third of Ukrainians had to leave their homes because of Russia's war in Ukraine. Based on this statistic, we can assume that approximately one-third of performing art professionals had to change their place of residency, two thirds or at least half stayed in Ukraine and continued their work in the country. The Antonin Artaud Fellowship was designed to create more possibilities for professional development of artists who stayed in Ukraine. 
Based on an open call, performing art artists get financial and organizational support, joining experimentation, reflection, and learning process. In 2022 we have implemented a pilot round of the program and presented 4 works in progress in Kyiv with involvement of 17 artists. In 2023, we are implementing learning programs, creating possibilities for artists to exchange and learn from international experience. 
For this year we prepare the second round of the Fellowship and plan to implement it annually. 
Who and what we are looking for:
People, willing to join the jury and evaluate the application for the Fellowship in September-October (exact timing to be confirmed).
We are open to partnerships: joint cooperation projects (for example, we have experience of successful application for Creative Europe program).
We will be happy to welcome contributors to learning programs and events for professionals in Kyiv.  
In case you are interested in one or more possible collaborations, mentioned above, contact us via email diatel@proto-produkciia.com or IETM profile.
You can follow our page on Facebook for more updates (for now in Ukrainian), Instagram page (here is more content in English) or one of founders' LinkedIn page: Olga Diatel (updates in English). Our Flickr page is here via link.