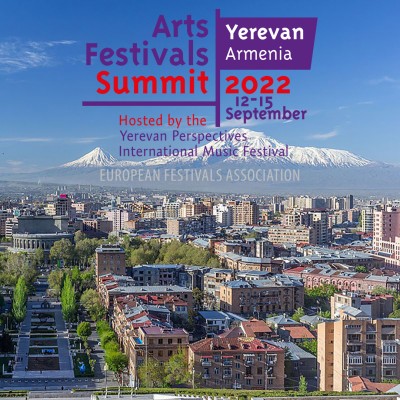 Joint Invitation to the 70th Anniversary Arts Festivals Summit of the European Festivals Association
IETM and the European Festivals Association (EFA) are delighted to jointly invite you to EFA's 70th anniversary Arts Festivals Summit 2022 from 12 to 15 September in Yerevan, Republic of Armenia. Together with the host, the Yerevan Perspectives International Music Festival, we are glad to welcome you in Armenia's capital for a rich programme of encounters. 
Let's celebrate together: 70 years ago, Swiss writer and philosopher Denis de Rougemont and Ukrainian conductor Igor Markevitch launched EFA as a peace project, a dialogue platform, an expression of hope and reconciliation. In this light, EFA and IETM are inviting you for a series of reflections and conversations at EFA's Arts Festivals Summit 2022 from 12 to 15 September in Yerevan and to look ahead to a next decade through the 70-Years-On Agenda.
200 festival makers, cultural operators, artists as well as mayors, cities representatives, public authorities, artists and the media have been invited to share thoughts, concerns, needs, and artistic proposals. The two main highlights of this year's Summit are:
The EFFE Seal for Festival Cities and Regions
The 70-Years-On Agenda
and more, concrete initiatives proposed to festivals and surrounding stakeholders such as the 'International Festivals Declare Emergency' campaign for sustainability and actions dedicated to the European Year of Youth (a new European Festivals Fund for Emerging Artists) will be presented and discussed.
Practicalities
Yerevan is the beautiful and welcoming capital of Armenia. The city will offer us a wonderful backdrop to discover a country and a city unknown to many of us: its history, its landscapes, its artistic community; its culinary tradition and fine wine. Yerevan is one of the oldest cities in the world, celebrating 2803 years of existence. Many direct flight connections to Yerevan will be open in September, which is known as the velvet season. 
A contribution of €195 is asked per person to cover the participation costs and get 30% discount (pay €137) for all your additional delegates along EFA's registration policy for non-members. The registration fee includes many items: coffee breaks, opening reception, lunches, farewell dinner, sightseeing tours, artistic and cultural programme, local transport (airport transfers not included).
Registrations are now open on EFA's website (registration / programme / practical guide), with all information for your travel and stay. To be able to plan the activities, we kindly ask you to register as soon as possible. Deadline for reservation is 1 July 2022.