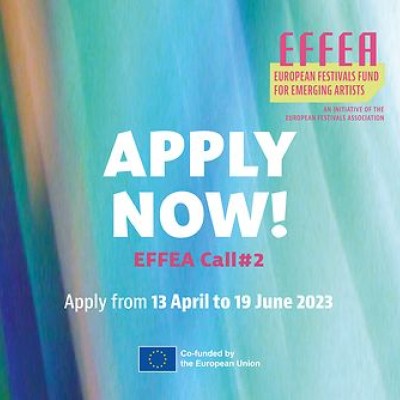 EFFEA Call #2 is open: Apply now!
The second call of the European Festivals Fund for emerging artists – EFFEA is now open. Apply before 19 June to the open call for festivals to support emerging artists. Time to find your emerging artist, your partner festivals and to work on your residency project.
EFFEA offers emerging artists a platform to develop their careers on an international level through festivals. All interested festivals based in one of the eligible countries are invited to apply with the emerging artist they wish to see grow.
The EFFEA Call #2 will support approximately 50 residencies involving 50 emerging artists in the seat of 50 leading festivals in collaboration with at least two partner festivals located in different countries. EFFEA thereby encourages cross-borders cooperation between festivals. The artistic residency should take place between 1 September 2023 and 31 August 2024.
Apply now for an EFFEA grant before 19 June 2023 on the EFFEA platform.