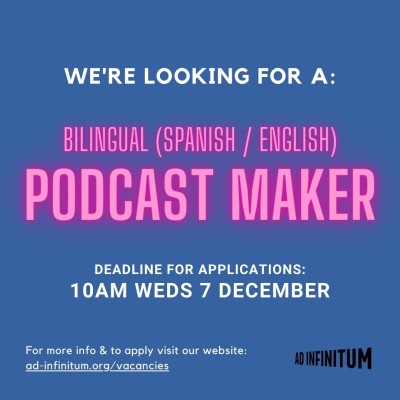 Artist Callout: Bilingual (Spanish/English) Podcast Maker
Ad Infinitum is inviting applications from bilingual creatives (Spanish/English) with experience in making high-quality podcasts to collaborate on a project examining the disturbing phenomenon of femicide and disappearances in Mexico.
They are looking for an artist who is highly skilled in all elements of producing an engaging podcast, including editing and structuring narrative. They have gathered stories of women in Mexico known as 'The Disappeared' - speaking to their relatives, the authorities, social groups, and journalists - and are looking for an audio artist who will edit this material into a bilingual two-part podcast for Spanish and English speakers.
The daily pay rate is £175 for 12.5 days (total fee £2,200).
For full information and to apply, visit Ad Infinitum's website.
Applications close on 7th December at 10:00 am. Work will take place between December - February, and the podcast will be launched in February 2023.
They actively encourage people whose backgrounds, lived experience and skills are underrepresented in the sector to join us and positively impact our organisation. They are particularly keen to receive applications from people who are from the Global Majority, particularly Latinx; and disabled people.