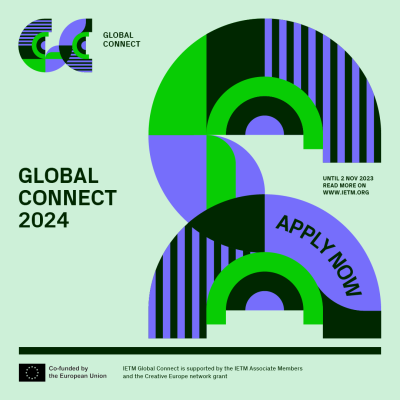 Apply now for IETM Global Connect 2024
IETM is proud to launch our third international open call to participate in IETM Global Connect 2024, a programme created with and supported by IETM Associate Members with the goal to make our network more inclusive, diverse and accessible.
We are seeking applications from performing arts professionals worldwide (producers, artists, managers, presenters, etc.) who are working in all performing arts fields - except for live music -, and who have at least five years of professional experience in the sector. Our ideal candidates are leaders in their own local community and are committed to inclusion, accessibility and connectivity – in the international sector at large and within their local communities.
The 2024 Global Connect programme includes new and exciting opportunities inspired by the key takeaways from its first two editions. The ten selected candidates will receive a free IETM membership for five years (2024 - 2028) with several benefits, including free access to all IETM meetings; participate in four exclusive online sessions from January to May 2024 - including an opportunity to present your work to all IETM members - and get funding support to take part in the 2024 IETM Plenary Meeting in Sofia, Bulgaria from 12 to 15 June 2024.
Applications period: 4 October - 2 November 2023
Deadline to apply: 2 November 2023 at 23:59 CET (calculate your timezone)