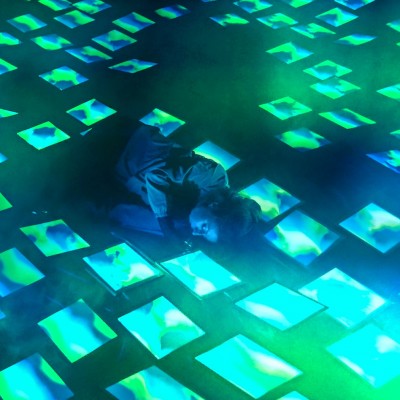 Sonica Glasgow returns in March 2022
Sonica Glasgow returns in March 2022 and the Cryptic team is pleased to announce their first artists:
Roly Porter (UK) + MFO present KISTVAEN – with Anne Martin
10  & 11 March 2022
Groundbreaking artists Roly Porter and MFO open Sonica 2022 with an awe-inspiring audio-visual performance piece. Kistvaen contrasts primordial motifs – elements and seasons, sun and moon, gods and magic – with those of 21st century life to explore how our pagan roots and technology-driven present are inextricably interwoven. The performance takes its name from the simple Neolithic granite tomb called a kistvaen, frequently found scattered across the moorlands of the English southwest.
Roly Porter is well known for his releases on Subtext and Tri Angle, and was one half of legendary dubstep duo Vex'd. His music blurs the boundaries between field recording, folk instrumentation and digital sound processing. As MFO, Marcel Weber is widely recognised for his A/V collaborations with artists such as Ben Frost, Liz Harris (Grouper/Nivhek), Tim Hecker and Kuedo; his scenography blends subliminal stage and lighting effects with cinematic imagery to evoke timeless feelings and images from the subconscious.
For Kistvaen Porter and Weber are joined by Anne Martin, the celebrated Gaelic singer from the Isle of Skye, who brings her beautiful and powerful vocals to ritual burial songs. Together, the trio seeks to connect the primordial past with the near future in one captivating performance.
Gavin Bryars Conducts a Visual Concert
12 March 2022 
One of the most influential British composers working today, Gavin Bryars joins forces with the RSNO for a spectacular performance at Sonica Glasgow 2022.
In this unique event, Bryars conducts Jesus' Blood Never Failed Me Yet and the UK premiere of his Viola Concerto (A Hut in Toyama) with Morgan Goff on viola. The performance also features Arvo Pärt's If Bach Had Been a Beekeeper.
In a world first, artist Alba G. Corral will respond to the music in real time. Beginning from pre-coded algorithms, Corral's artwork will expand kaleidoscopically, generating large-scale digital landscapes inspired by Kandinsky's theory of 'visual music' – fusing sound, light, movement and form.
Bryars is renowned for mixing classical, jazz and modern influences. He first became known as a professional jazz bassist and pioneer of free improvisation, working with Derek Bailey and Tony Oxley. In the late 1960s, his work with John Cage influenced his early pieces The Sinking of the Titanic and the iconic Jesus' Blood Never Failed Me Yet. Since then, Bryars has written several chamber works performed by leading ensembles and soloists, as well as works for theatre and dance, including four full-length operas.