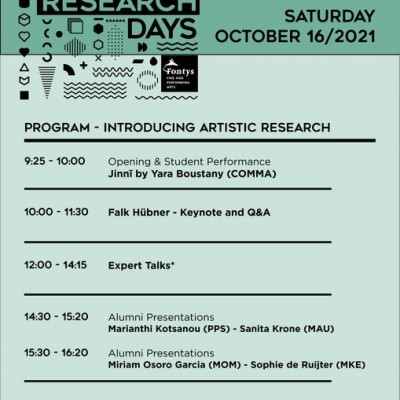 Join the Artistic Research Day by Fontys Arts University
Fontys Arts University is announcing the full program of their Artistic Research Day: Introducing Artistic Research .
On October 16, they invite you to join a colorful day of inspiration, creativity and interdisciplinarity!
Links to the livestream can be found in the FB event or the Research Days website: https://fontys.edu/Artistic-Research-Days.htm
Keynote Speaker: 
Falk Hübner will be one of the keynote speakers for the first Artistic Research Day of the year - Saturday October 16!
Falk is a research professor (lector) of Artistic Connective Practices at Fontys University of the Arts. With a background as composer, theatre maker, researcher and educator, he is active in a huge diversity of collaborations within and outside of the arts. His research focuses on the social-societal potential of artistic research, research methodologies, and the relation of the arts and art education in relation to society. In 2019-2021 Falk has conducted a post doctoral research at HKU University of the Arts on artistic research methodology and ethics.
Co-Organized by:
Fontys Hogeschool voor de Kunsten
Performing Public Space (IETM Member)
MA+U Master of Architecture // Master of Urbanism