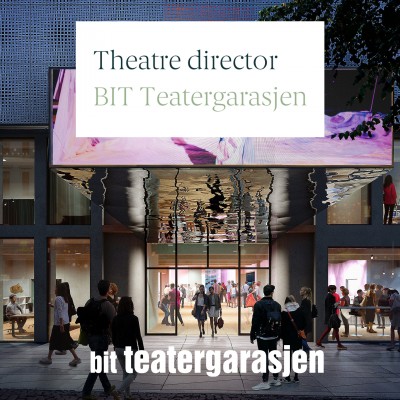 BIT Teatergarasjen seeks theatre director
Do you wish to manage a vibrant and inspiring theatre?
BIT Teatergarasjen is seeking a bold and creative theatre director to further BIT Teatergarasjen's artistic ambitions. The theatre director has a clear artistic vision based on professional competencies and a clear focus on the contemporary field of theatre and the performing arts. BIT Teatergarasjen presents innovative, challenging, and socially involved performing arts. The theatre director reports to the board, and is both artistic and managing director. The position has a term of 5 years.
The theatre director will, together with highly skilled and motivated employees, develop BIT Teatergarasjen as an organisation, and will also prepare the relocation to the new premises at Sentralbadet. With the new location for performing arts, BIT Teatergarasjen will gain increased visibility both locally, nationally, and globally.
BIT Teatergarasjen is looking for a theatre director with experience from artistic and curatorial work. The right candidate boasts an extensive professional network and contacts in the field of performing arts nationally and internationally, along with a commitment to artistic and cultural policy. You grasp and can navigate political decision-making processes and you communicate well with a wide range of associates, including artists, audiences, the media, and authorities.
As manager, you will be visible and present in the work environment, and you will work effectively with the other members of the team to stimulate a thriving work culture. You will give recognition, set motivating goals, promote a sense of achievement and maintain team morale.
The position is based in Bergen, but frequent travelling both nationally and internationally should be expected.
The working language is Norwegian or English.
 Any questions can be directed to Visindi by Roy Tore Lysen Jensen on tel. +47 909 20 447 or Tonje Støver Knutsen on tel. +47 477 10 611. All inquiries are treated confidentially, if desired also to the client in an initial phase. Submit your application and CV as soon as possible and no later than within 10.01.21 via visindi.no
Related news: Sven Åge Birkeland steps down as director of BIT Teatergarasjen