IETM Brussels: meeting review
Image in banner: © Jana Gellinck
The relationship between art and populism was at the heart of the conversations at IETM Brussels, enriched by more than 800 voices from across the globe.
Reviewing what IETM Brussels has all been about, we would like to call to everyone's mind the tragic loss of one of our participants, Anna Krzystek, who died in an accident in Brussels on Friday 24. Anna attended IETM Brussels as Creative Scotland's Interdisciplinary Performance Officer, a position she had taken a year ago. We will miss her dearly and our thoughts are with her family, her close friends and colleagues.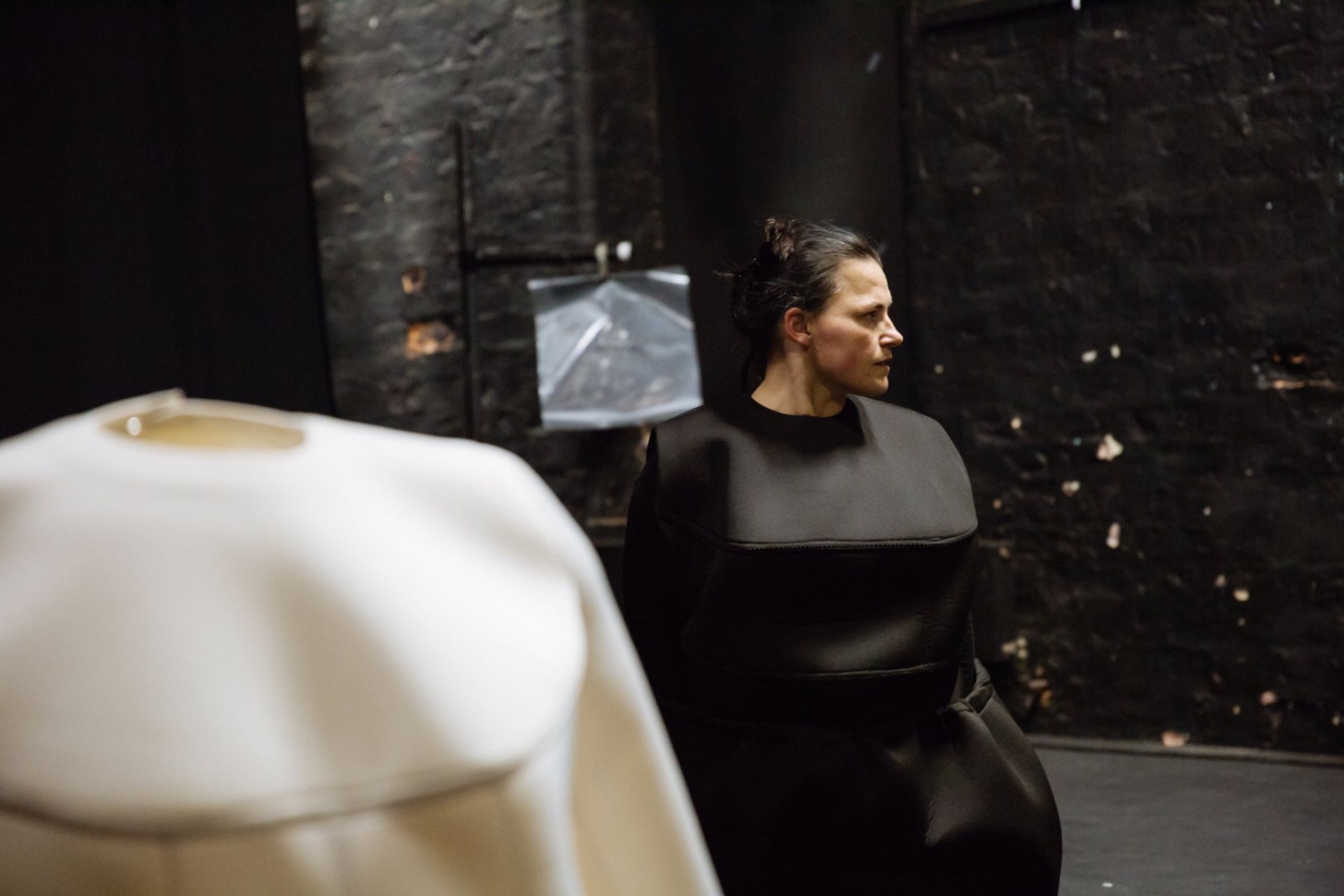 We kicked off our four-day reflection on art in the age of populism with an attempt to take stock of the world's various populist tides. The session shed some light on the state of the arts in Iceland, Ukraine, France, Switzerland, Armenia, United States, South Korea, Australia, UK and more. However, as the conversation revolved around the manifestations of corruption, authoritarianism, neo-liberalism, "fake news", we did not manage to channel it into the exchange of views on the actual notion of populism. The urge to share current concerns and threats rising in our home countries – whether they relate to populism or not – outweighed our willingness to keep the conversation within predefined limits.
Eric Corijn (Vrije Universiteit Brussel), the keynote speaker, shattered the significance of the term "populism" altogether. "In the "age of populism"?" he asked. "Would we spontaneously call it that? Or is that giving in to the dominant framing of established politics and media?" According to him, populism has become a "container concept", which does not convey any common meaning; it obscures real problems and diverts from political debate. Corijn spoke about populism as a symptom of a crisis of democracy, which manifests itself in a divergence between ruling structures and "the people", as well as a degradation of democratic belief, trust and recognition. He claimed arts are there to reimagine and reinvent a truly democratic society, "to rebuild a collective vision, and a new inclusive narrative".
Eleanor Bauer (GoodMove, Belgium) jokingly thanked Eric Corijn, among others, for eliminating the need to define populism, and topped his claim regarding the role of the arts with a question: "How can the arts bring us closer not only to imagining a better future, but to sensing more accurately and acutely <...> the reality we already inhabit?" Her point was that pluralism - not only in terms of identities, but also in terms of media of thought and registers of sense-making - is necessary to comprehend the reality as it is. "We need to upgrade our emotional intelligence, our sensitivities to other media of thought (not just language, screens…). That is what art can do. <...> Art can also trouble the simplifying tendencies that allow something like populism to take place. It can offer a safe space for confusion and a place to wrestle with cognitive bias."
IETM Brussels provided a space for debate on the problematic concepts of democracy, identity, community, the outsider's perspective as a starting point for artistic research, and art as constantly questioning the world. After being confronted with a few examples of "governing with populists" in different countries in Europe, we found a shared urge to reconsider our position as so-called critical, engaged and independent arts professionals. Is it possible to counter or reject a populist approach to the arts? Is there a healthy way to filter populism into our artistic practices? In order to challenge the current reality, we must first burst out of our own "bubble" by taking an active position within other "bubbles". Becoming a member of a party, or starting a new party, were put forward as possible ways to achieve this.
We attempted to reveal the mechanisms through which authoritarian regimes and the oppression of free expression of ideas trigger censorship and self-censorship. The example from Turkey exposed the persecution of those intellectuals who decided to stand against the oppression of Kurdish people. The Polish representatives shared a story of what they call economic censorship. Presenting the clever maneuvers of the contemporary dance scene in Iran, a state where dance is forbidden, this story was a true inspiration for survival, endurance and resilience. Being spared the harsh conditions of other countries, the Belgian representative elaborated on the forms censorship can take in a democratic capitalist society, where radical transparency can become problematic.
© Jana Gellinck
Disappointed by the news that the planned European Capital of Culture 2023 pre-selection in the UK will not take place, we could not avoid addressing the role of culture in sustaining the European project (all the more so, having gathered in Brussels, the heart of the EU). Casting aside our disbelief and frustration, we attempted to take a courageous look into the further, deeper future. Hilde Teuchies (Flanders Arts Institute) pinpointed some possible solutions, such as building a European commons with a strong cultural component, reinforcing the role of member-states in supporting internationalisation of the arts, and establishing a European model for a cultural policy. Nan Van Houte (IETM) highlighted the necessity of EU support for small organisations – which are more agile, "highly committed, innovative and research-oriented pioneers, not seldom strongly rooted in their communities, or easily connecting with newcomers or those in need."
Barbara Gessler (European Commission) claimed that the reality is not as bleak as it has been for a long time, and there is finally a positive momentum for culture within EU policies (referring to the recent EC communication). It is crucial to take advantage of this window of opportunity and make a strong case for culture and the arts. The necessity of collecting data and tangible evidence unavoidably came up as one of the vital components of such a case.
In the course of the debate, we raised the dangers of carving culture to suit either left or right politics and asserted once again that culture and the arts should not be appropriated by either.
© Jana Gellinck
We had an opportunity to investigate what 'local' and 'global' mean in terms of artistic practices: how we interpret international topics in a local context, how we convey local topics on an international level, and how we navigate these two environments. Ramesh Meyyappan revealed his specific artistic experience as a deaf performer from the UK who has elaborated a visual theatre vocabulary that is understandable by everyone. Viewing himself as an international artist, he started to use this visual language to narrate local stories of different communities. Anne Watthee (Kunstenfestivaldesarts), presented her vision; that making long-term relations with the local audiences is what makes an international festival. Beijing-born Mi You (Academy of Media Arts Cologne), presented her projects as being below and above the nation and reminded us that 'nation' is quite a recent, 19th century concept.
In the session City of arrival, and with the case of Brussels as a starting point, the new nature of our European cities was discussed. From 'multicultural to 'superdiverse' – with a majority of the population having roots in migration - our cities have changed and this change should be reflected in all aspects of societies. In a heated debate, the role of arts organisations in reflecting this new reality was questioned. How to be on the forefront of change rather than lagging beyond? 
The session Meanwhile in the Countryside started from the clear understanding that bringing urban/ "high"/global culture to the countryside is not the point of this debate – because there is already culture in the countryside and one should be open to explore and celebrate it. The differences between the Australian, UK or Danish countryside, between Ukrainian suburbs and the rural Netherlands revealed the rich diversity in contexts, patterns and agendas that 'countryside' may offer. Two short participatory games served as examples of what was presented by the speakers as a fulfilling way to work in the countryside: to ask and listen to the locals, to work with them, not for them, and to tell their stories.
© Jana Gellinck
You might like to try one of the games we played. Try to describe to someone the soil of your countryside: what colour is it, what texture, which crops grow in it, what words would you use to describe it. Then, ask about theirs. You could be surprised by the nuances and the differences you find. 
IETM Brussels was supported by: