Violence(s) - Theatre performance by Fadhel Jaïbi and Jalila Bakkar
A terrible observation: the Tunisian revolution, instead of bringing hope, gave rise to unprecedented fears, anxieties, depression, acts of despair, daily violence leading to atrocious crimes...
Beyond the cultural, social, economic, political and psychiatric explanations, isn't there a great mystery, an unfathomable black hole related to "acting out"?
Where does acting out come from? From which dark depths of the ancient myths and archaic behaviours does it reach us? Within what mysteries does it lurk?
How to show it, how to tell it - off the beaten track and the minefields of ready-made judgments and preconceptions?
It's a journey into the human soul. After Homer, Aeschylus, Sophocles, Euripides, Shakespeare, Dante, Buchner, Brecht, Genet, Bond, Pasolini and many others ... what's "new", unreal, surreal, tragicomic in our terrible daily life?
You can book your ticket through this general reservation form (also used for booking your accommodation in Beirut, ordering meals and airport transfer and settling other practicalities). Reservation deadline: 23 September.
Price: 30 USD (45000LBP)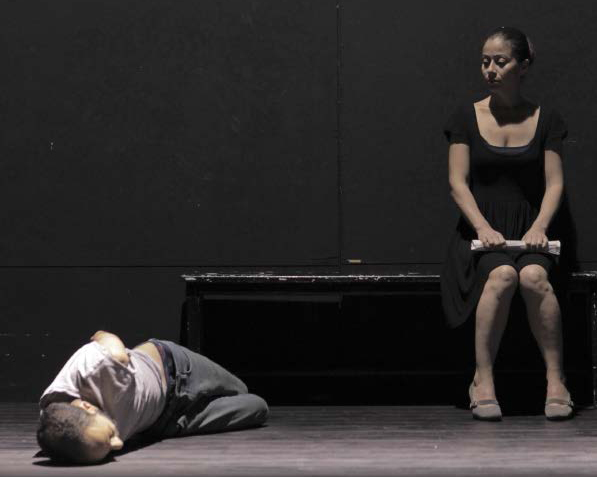 Scenario and dramaturgy: Jalila Baccar et Fadhel Jaïbi
Text: Jalila Baccar
Staging, scenography and original music: Kaïs Rostom
Interpretation: Jalila Baccar, Fatma Ben Saïdane, Noomen Hamda, Lobna M'lika, Aymen Mejri – Nesrine Mouelhi, Ahmed Taha Hamrouni – Mouïn Moumni
Staging assistant: Marwa Mannaï
Assistant General Coordinator: Fasten Jaouadi
Costumes: Salah Barka
Lights manager: Ali Helali
Sound manager: Nesrine Dabbabi
Stage manager: Néji Khadhraoui
Surtitles: Lina Babba
Productions Director: Oussama Jameï
6 October, 2016 -

20:30

to

22:20