Landscapes of our tears - Theatre performance by Collectif Kahraba
Job, the mythic character from the biblical "Book of Job", frequently comes to mind when living in the Middle East. He who, upon his bed of ashes, curses the day he was born. He who has lost everything, yet disavows nothing. « Landscapes of our tears » displays the inner geography of Job, the jagged contours of his soul. The author, Matéi Visniec, depicts a broken man who, beyond his suffering, still believes that the human being is a miracle on earth.
Body in motion and masked body, puppets, projected images, manipulation of objects are the on-set tools used to write the visual poetry of this work. Roger Assaf gives his voice and interpretation to the Job of Visniec. Dominique Pifarely, violinist renowned in the improvisational Jazz scene, composes and interprets the music of this visual poem.
You can book your ticket through this general reservation form (also used for booking your accommodation in Beirut, ordering meas and airport transfer and settling other practicalities). Reservation deadline: 23 September.

Price: 14 USD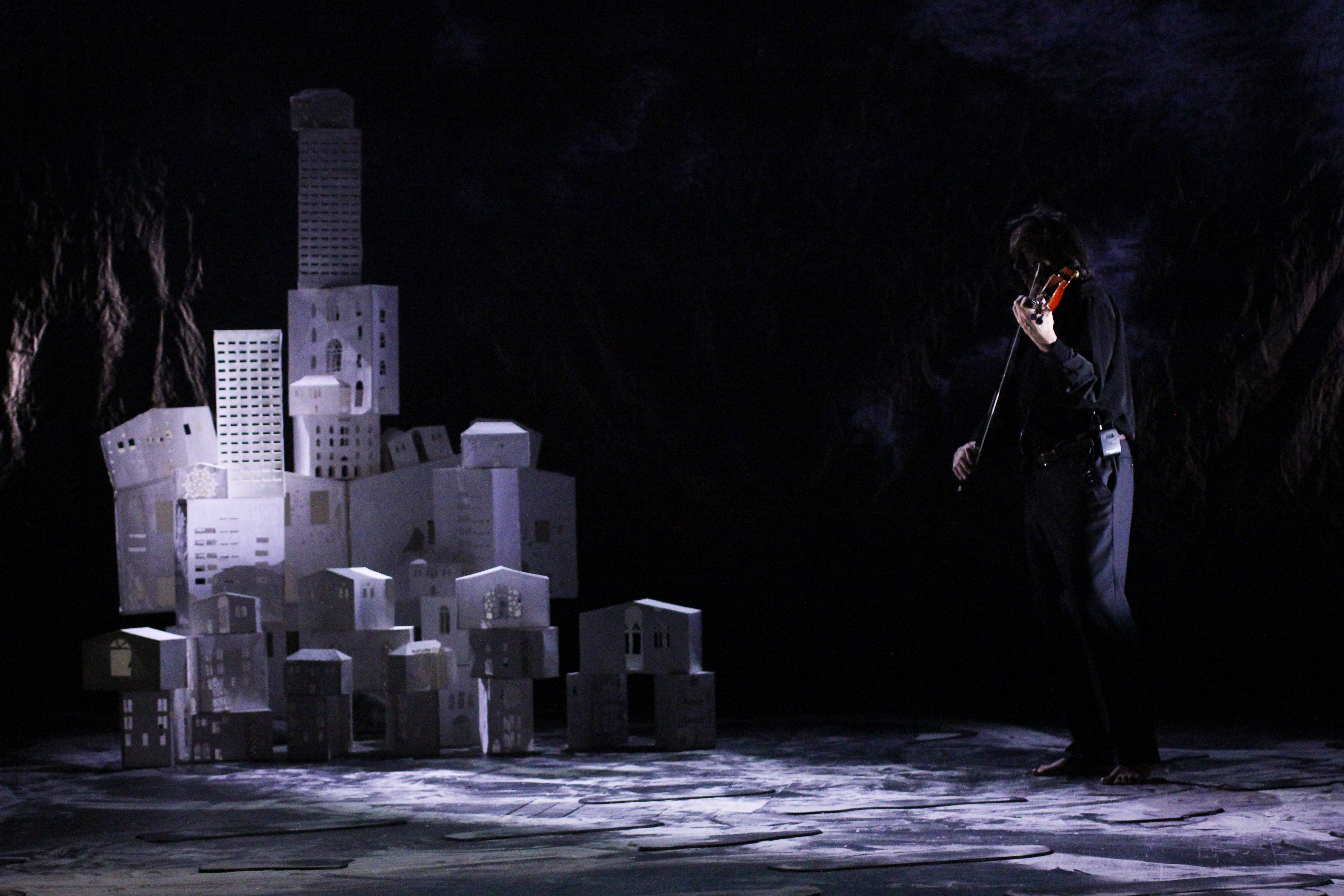 © Eric Deniaud

Direction: Eric Deniaud
Text: Matéi Visniec
Music: Dominique Pifarély
Voice: Roger Assaf
With: Aurélien Zouki, Marielise Youssef Aad, Dana Mikhail, Dominique Pifarély
Sound creation: Christophe Hauser
Light design: Riccardo Clementi
Scénography, puppets and videos: Eric Deniaud
Assistant: Tamara Badreddine
Translation in lebanese arabic: Chrystèle Khodr and Roger Assaf
Artistic collaboration: Cécile Maudet / Lena Osseyran / Ahmad Khouja
Production manager: Virginie Crouail
Production: Archipels-cie Dominique Pifarely
Coproduction: Collectif Kahraba / ExtraMuros / TJP CDN d'Alsace / Le Tas de Sable d''Amiens
In partnership with: la NEF – Manufacture d'utopies, le Théâtre des 4 saisons à Gradignan, le Théâtre de la Licorne à Dunkerque
Supported by: la DRAC Ile-de-France, la DRAC Poitou-Charentes, l'ADAMI, la SPEDIDAM, l'Institut Français de Beyrouth et l' association Shams à Beyrouth.
8 October, 2016 -

20:30

to

21:30