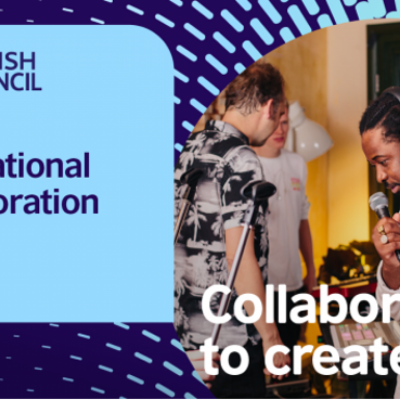 Apply for the British Council's open-call for applications for their International Collaboration Grants
The British Council launched an open-call for applications for their inaugural International Collaboration Grants.
This £3.5M fund will support UK and global organisations to collaborate on digital, face to face and hybrid artistic projects, and builds on the success of the British Council's 2020 pilot Digital Collaboration Fund, which supported organisations to sustain international collaborations digitally during the impact of the Covid-19 pandemic.
The grants are designed to support artists to make and develop creative artwork with their international peers, to encourage new international partnerships, and innovative ways of collaborating. There are two levels of grants available: small grants of between £5K-£20K and large grants of between £20K and £75K. All organisations applying must offer explicit benefit for individual artists and international partners.
Organisations based in the UK and 46 countries around the world, including eight in the EU region/European Free Trade Area (EFTA) - France, Germany, Ireland, Italy, Norway, Poland, Romania and Spain - are invited to apply. As the fund is designed to support collaboration, all applications must include at least one partner based in the countries/territories stipulated and at least one UK partner. The British Council is particularly keen to receive applications from across the UK and from organisations they haven't worked with before. For a full list of eligible countries please see their FAQs.
Applicants will be required to demonstrate genuine international collaboration with long-term ambition, and projects are encouraged to address significant contemporary themes, such as equality and inclusivity, and/or global challenges, such as climate change.
All applicants must submit their application digitally via the online portal which will be available between 15 October and 4 November 2021 on the International Collaboration Grants Page.