The performance takes us to the South Seas island of Nauru to confront us with the consequences of colonial behaviour. Romantic western cliches about the South Seas contrast with the systematic exploitation that Europe so likes to close its eyes to. But Shit Island does not just look back in anger: "The question about Nauru's future is a question about the future of our whole planet." (Futur3)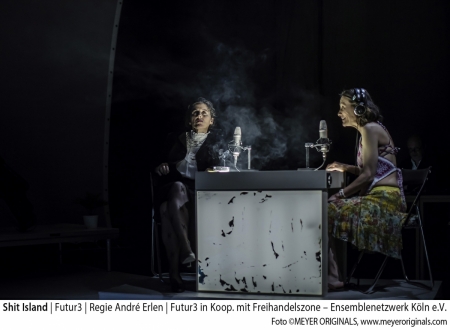 For more than 12 years, the Cologne-based collective Futur3 has been producing original theatrical productions about sociopolitical issues. Futur3 chooses the format, the location and the partners for each production according to the nature of the issue. Often, the audience becomes part of the performance. Futur3 has been working with partners in Switzerland, Poland, Belgium and Ukraine and is a founder member of the Freihandelszone – Ensemblenetzwerk Köln (free trading zone – ensemble network Cologne). Futur3 has been awarded the Kurt-Hackenberg-Award for Political Theatre and twice, Cologne's Theatre Award.
In cooperation with Freihandelszone – Ensemblenetzwerk Köln e.V.
Performance: Irene Eichenberger, Stefan H. Kraft, Luzia Schelling
Director: André Erlen
Artistic consultation: Nicole Nikutowski und Klaus M. Zehe
Stage and costume design: Petra Maria Wirth
Music: Jörg Ritzenhoff
Light design: Boris Kahnert
Video: Per Larsen
Assistance: Olya Kozliuk
Genre: Theatre
Language: German
Surtitles: English
Price: € 12,60 in the presale, € 10 at the box office
How to book your tickets?
Before Wednesday, 31 October, 16:00, you can book your tickets:
by calling Munich ticketing call centre at +49 8954 818181 (Mon-Fri 9:00-19:00, Sat 9:00-14:00. Closed on Sundays and public holidays, including 1 November);
at the ticketing desk at Gasteig München.
After Wednesday, 31 October, 16:00, you can reserve your tickets:
by calling the Pasinger Fabrik / Wagenhalle's box-office at +49 8982 929079 or in person 1 hour before the performance begins;
by requesting assistance at the info desk at Gasteig München.
Please check the accessibility of the venue here.
Pasinger Fabrik / Wagenhalle
1 November, 2018 -

20:00

to

21:40