Pre-meeting trip to the artists' village Moosach, culture in the countryside
Since the 70s, the small village of Moosach has been attracting artists like Peter Schumann of the Bread & Puppet Theatre or Heimrad Prem of the anarchic artists' collective of the Gruppe SPUR. Built in the Bauhaus style, Meta Theater has also found its place here as "habitat", workspace and centre of networking activities. New generations of artists have since settled in and around the village. In this excursion, the participants are cordially invited to get acquainted to the cultural experience of modern rural Bavaria.
Online registration for the pre-meeting excursion is now closed. If you would like to join it, you can subscribe yourself at the meeting point. You will be able to settle the participation fee at the spot.
Price: € 25
Maximum: 19 participants
Programme

14:00
Departure from Munich Gasteig by bus
15:00
Arrival at Meta Theater; welcome and reception by the cultural circle Moosach; introduction to the history of Meta Theater and of Moosach as an artists' village
16:00

Walk around the village artists' workshops
Once a year, the visual artists open their workshops for the "Atelier-Diagonale". We will visit painters, sculptors, metal artists and a stage designer.

17:30
Dinner in the village offered by the City Council and the cultural circle Moosach
20:00

TAKASAGO / Nô Theatre / intermission / ROCKABY BY BECKETT
with Nô – Master Akira Matsui (Japan) and Marion Niederdländer
"Forget the theater and look at the Nô, forget the Nô and look at the player, forget the player and look at the heart, forget the heart, and you will understand Nô."
Nô master Akira Matsui gives insights into the 600-year-old art of Nô theater with the two-part Nô Performance. Akira Matsui performs together with the actress Marion Niederländer and John Oglevee as Kotsuzumi / Chorus. At the beginning, Akira Matsui dances the classical Nô "Takasago", the twin pine, followed by the one-act "Rockaby", which Samuel Beckett dedicated to the Nô Theater.
Matsui wants to show the mutability of the No, from the traditional to a contemporary style."I try to keep the Nô's style intact, but I want to perform Nô in a different way than has ever been done before, I want to confront Nô with new expressive possibilities."

21:00
Talk with the artists
21:30
Departure
22:30
Arrival at Munich Gasteig
Accessibility
Special wheelchair accessible buses will not be provided. Wheelchair users will be invited to join the regular buses, if possible, and take regular seats; their wheelchairs will be transported in the luggage compartments. For more information on the accessibility of the venues that will be visited during the pre-meeting trip, click here.
In cooperation with the Kulturkreis, kindly supported by the city council of Moosach and the district of Ebersberg.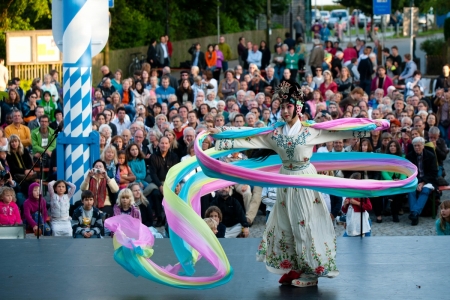 Meeting point: Gasteig München
31 October, 2018 -

14:00

to

22:30